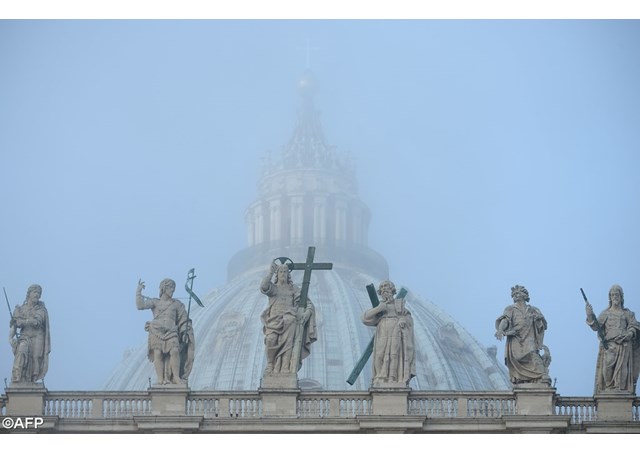 (Vatican Radio) Pope Francis during his weekly General Audience on Wednesday urged families to talk and listen to one another, especially at the dinner table.
Listen to Lydia O'Kane's report
The fog in St Peter's Square had just about cleared when Pope Francis arrived for his weekly General Audience. Continuing his catechesis on the family, the Holy Father's main focus of attention on Wednesday was family togetherness.
The Pope noted how sitting down together at the table for the family dinner, sharing a meal and the experiences of the day, was a fundamental image of togetherness and solidarity. 
He then explained that because Jesus gave us the Eucharist as a meal, there was a close relationship between families and the Mass. 
But Pope Francis also underlined how the family meal, a symbol of togetherness, is disappearing in some societies. 
Speaking off the cuff in Italian, he said a family who hardly ever eats together or when is does watches television or uses smartphones is not really being a family.
"When the children at the table are attached to their computers, or the phone, and do not listen to each other, this is not a family", the Pope stressed, it is a hotel.
The Holy Father appealed to families during his audience, to talk and listen to one another. There should not be silence at the table, he said.
The Pope also observed that food itself, the very sign of our sharing with others, is wantonly wasted in some places, while elsewhere, he added, our brothers and sisters go hungry. 
Concluding his audience with greetings to English speaking pilgrims, Pope Francis invited families, and the entire Church, to be signs of togetherness and solidarity for the good of the whole human family, especially during the upcoming Jubilee of Mercy.