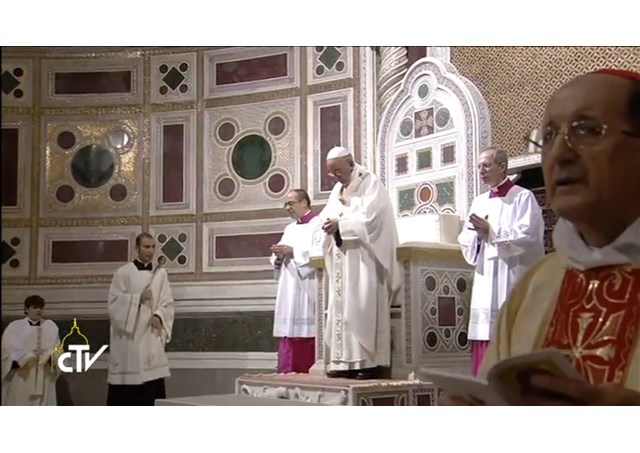 (Vatican Radio) Pope Francis celebrated Mass at the Archbasilica of St John Lateran on Monday evening in a ceremony that included the ordination of a new auxiliary Bishop for the Diocese of Rome.
Listen to Christopher Wells' report:
Pope Francis travelled across Rome to celebrate the Feast of the Dedication of St John Lateran – the Cathedral Church of the Diocese of Rome, known as the "mother and head of all the Churches of Rome and of the whole world."
During the Liturgy, the Holy Father ordained Monsignor Angelo De Donatis to the episcopate. Bishop De Donatis had been serving as pastor of the parish of Saint Mark the Evangelist in Rome, and will now take up the duties of an auxiliary Bishop for the Diocese.
Pope Francis' homily was based on the text prescribed in the Roman Pontifical for the ordination of a Bishop. The homily focuses on the role of a Bishop: "In the person of the bishop, with his priests around him, Jesus Christ, the Lord, who became High Priest for ever, is present among you.  Through the ministry of the bishop, Christ himself continues to proclaim the Gospel and to confer the mysteries of faith on those who believe.  Through the fatherly action of the bishop, Christ adds new members to his body.  Through the bishop's wisdom and prudence, Christ guides you in your earthly pilgrimage toward eternal happiness."
The Pope reminded that new Bishop that he has been chosen by the Lord. "The title of Bishop is not one of honour but of function, and therefore a Bishop should strive to serve rather than to rule." Bishops are called "[to] proclaim the message whether it is welcome or unwelcome; [to] correct error with unfailing patience and teaching [and to] pray and offer sacrifice for the people committed to your care and so draw every kind of grace for them from the overflowing holiness of Christ" … and especially, to "love all those whom God places in your care."