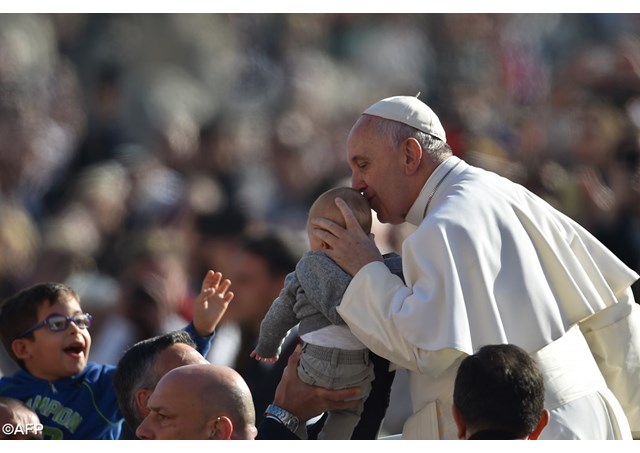 (Vatican Radio) In his weekly general audience, Pope Francis focused on the idea of the family as a centre for forgiveness. Speaking in St Peter's Square on Wednesday morning, he drew from Matthew 6 and continued to reflect on the importance of family as a place where we learn the values of forgiveness and reconciliation.
Listen here: 
The Holy Father began his catechesis by mentioning the recent Synod of Bishops, which met to discuss the mission of the family in the life of the Church and in contemporary society, in the Vatican at the beginning of October.
Pope Francis went on to say how he believed that "the family is a big training ground, dedicated to teaching devotion and forgiveness". He reiterated the core meaning of the Lord's Prayer, 'Our Father': "forgive us our trespasses, as we forgive those who trespass against us". The Holy Father emphasized that if we do not devote ourselves to our families or forgive those around us, "love will not endure".
The Pope implored families to never end the day on a bad note, but to "ask forgiveness". "If we learn to ask forgiveness straight away and to forgive one another immediately, wounds will heal, marriages will be strengthened, families will grow stronger".
"If we learn to live like this as families, we can also be like this, wherever we are". Pope Francis emphasized that forgiveness does not only save families from divisions, but makes them "better equipped to help society to be less evil, less cruel".
He recalled the passage from Matthew 7 in which Jesus tells his disciples "Not everyone who says to me, 'Lord, Lord,' will enter the kingdom of heaven, but the one who does the will of my Father who is in heaven".
The Pope directly addressed Christian families, saying that they could do a lot for today's society, and also for the Church. "During this year of the Jubilee of Mercy, I hope that families discover the gift of forgiveness".
He concluded by inviting those present to join him in saying the Lord's prayer: "Let's say it together: 'Our Father, forgive us our trespasses, as we forgive those who trespass against us'."