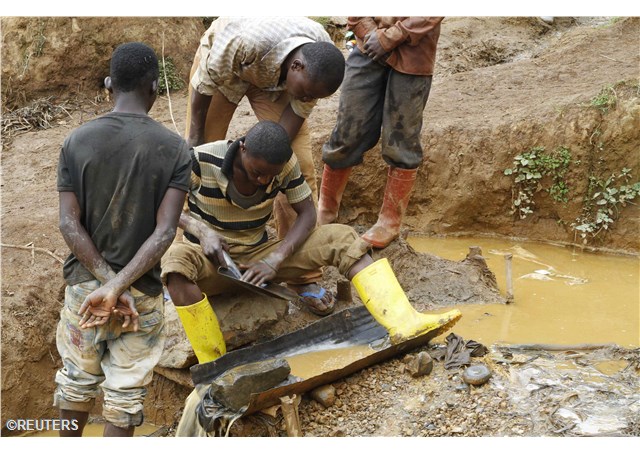 (Vatican Radio) U.S. Ambassador to the Holy See Kenneth Hackett says we need to raise awareness about the "horror" of deadly mines with appalling working conditions in the Democratic Republic of Congo (DRC) that are helping to power our digital world. The minerals that provide components for our smartphones, laptops and the electric grid often come from the DRC where millions of miners are trapped in poverty and highly hazardous working conditions. A new documentary film was presented for the first time this week at Vatican Radio that lifted the lid on the grim reality of the dangerous artisanal mining sector in the DRC and the shocking exploitation of the miners. 
The film also spoke about a promising development project in the city of Kolwezi in the DRC that is seeking ways to disrupt this cycle of abuse and exploitation. The documentary was shot on behalf of the Good Shepherd International Foundation, who along with the Good Shepherds Sisters, run the development program in Kolwezi. The film was sponsored by the U.S. Embassy to the Holy See and at the screening Ambassador Hackett told Susy Hodges why there is an urgent need for greater awareness and transparency about the global supply chain of "digital" minerals and about the horrific exploitation of these miners in the DRC.
Listen to the interview with the U.S. Ambassador to the Holy See, Kenneth Hackett: 
Ambassador Hackett said the shocking reality of the artisanal mining sector in the Democratic Republic of Congo is "a horror" that "is hidden from the world's attention." He said the international community urgently needs to know about it and this project by the Good Shepherds Sisters is aiming to do it. 
Asked about the working conditions, the U.S. Ambassador described them as "dreadful" with the miners "brutalized" and living in a situation where "they are made almost slaves." He also noted the "very murky" situation and lack of transparency when it comes to the control of the minerals.