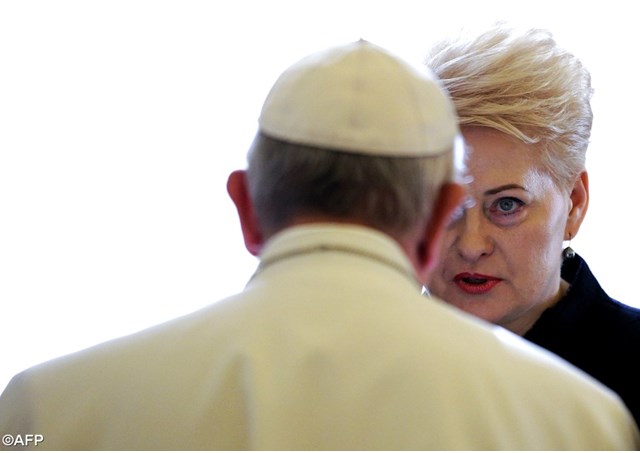 (Vatican) Pope Francis received Her Excellency Ms. Dalia Grybauskaitė,  president  of  the  Republic  of  Lithuania, in a private audience in the Vatican on Thursday. She subsequently met with His Eminence Cardinal Secretary of State Pietro Parolin, accompanied by His Excellency Archbishop Paul Richard Gallagher, secretary for Relations with States.
During the cordial discussions Ms Grybauskaitė expressed appreciation to the Catholic Church for the positive contribution it has made to Lithuanian society.
Attention then turned to a number of themes of common interest, such as European integration, the need for greater solidarity between nations to face various current challenges, the reception of migrants in Europe, peace and security at regional and international level, the conflict in Ukraine, and the situation in the Middle East, with particular reference to Syria and the Holy Land.
The President gave Pope Francis two gifts: two two highly revered images which celebrate Divine Mercy: 'The Divine Mercy' and 'The Mother of Mercy'.
The Image of Divine Mercy is venerated by pilgrims from around the world. This is the first and original image of Divine Mercy that was painted by Eugeniusz Kazimirowski in 1934. In order to protect it from being destroyed during Soviet occupation, the image was removed from the Lithuanian capital, Vilnius, and taken to a remote parish. The image was returned to Vilnius in 1986 and Pope John Paul II prayed before it on 5 September 1993 with the Polish community of Lithuania.
The Image of the Mother of Mercy (Mater Misericordiae) has been displayed in the Chapel of the Gate of Dawn since the 17th century, where it soon became renowned as a source of grace. The holy image is venerated by Roman Catholic and Orthodox faithful of many countries.