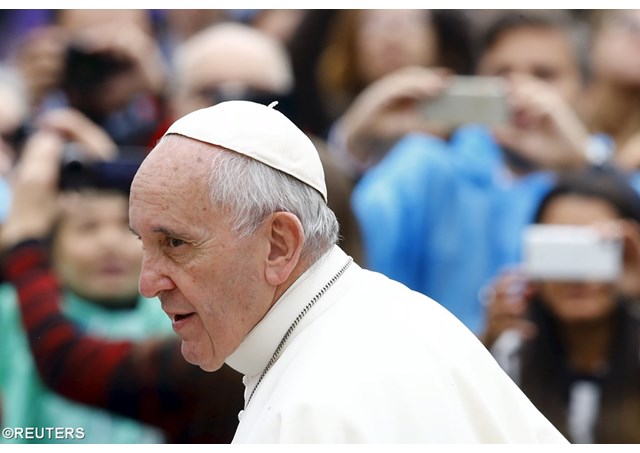 (Vatican Radio) Pope Francis has appealed for concrete solidarity for the peoples of Pakistan and Afghanistan who have been struck by a devastating earthquake.
Linda Bordoni reports: 
The Pope's appeal came during the Wednesday General Audience in St. Peter's Square two days a massive earthquake that struck the remote Hindu Kush Mountains on the Afghan-Pakistan border.
Officials are warning that the death toll which has soared above 300 will likely leap once relief workers return from remote villages. 
"We remain close to the peoples of Pakistan and Afghanistan who have been struck by a strong earthquake, which has caused numerous victims and terrible damage" the Pope said.  
And assuring his prayers "for the deceased and their families, for all the wounded and those who remain without a home, imploring God for relief in their suffering and courage in the face of adversity" the Pope said: "May our concrete solidarity not lack for these our brothers." 
Pope Francis' appeal came on the heels of his weekly catechesis which was dedicated to the 50th Anniversary of  the Second Vatican Council's Declaration "Nostra Aetate" on the Church's relations with other religions.
Recalling that this theme was very close to the heart of the Blessed Pope Paul VI who established the "Secretariat for non-Christians" which today is the Pontifical Council for Interreligious Dialogue, the Pope expressed a specially warm greeting of welcome to people of different religions present in the Square for the Audience.
Noting that the Second Vatican Council represented an extraordinary time of reflection, dialogue and prayer to renew the vision of the Catholic Church regarding itself and the world.
And speaking of "Nostra Aetate" Pope Francis said the Council's Declaration was an expression of the Church's esteem for the followers of other religious traditions, and her openness to dialogue in the service of understanding and friendship.
  
And, he said, its message is important and timely today as peoples become increasingly interdependent as one human family.
The Pope noted that The past fifty years have seen much progress and expressed gratitude for the significant advances made in relations between Christians and Jews, and in those between Christians and Muslims.  
The world, he said,  rightly expects believers to work together with all people of good will in confronting the many problems affecting our human family.  
Pope Francis concluded expressing his hope that the forthcoming Jubilee of Mercy will be an occasion for ever greater interreligious cooperation in works of charity, reconciliation and care for God's gift of creation.  
"As we look to the future of interreligous dialogue, let us pray that in accordance with God's will, all men and women will see themselves as brothers and sisters in the great human family, peacefully united in and through our diversities" he said.