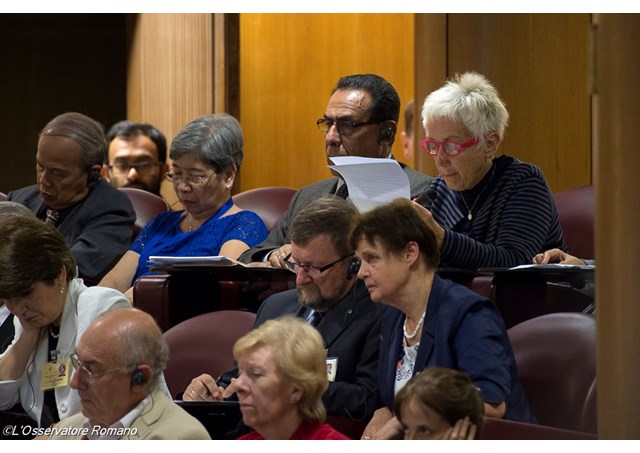 (Vatican Radio) For a meeting entitled 'The vocation and mission of the family in the church and the modern world', it may come as a surprise to hear that Friday, at the end of the second week, was the first opportunity for the protagonists themselves to address the full assembly from the coalface of family life. Apart from a couple of earlier presentations, this was the chance for most of the couples, and especially for the women invited to this Synod, to share their experiences and speak about issues closest to their hearts.
Listen to Philippa Hitchen's report: 
Since they came from countries across the globe, it's unsurprising that those issues were as varied as the views of the Church leaders we've been listening to so far. An Iraqi couple from Baghdad, bringing dramatic testimony of how their faith has been tested and strengthened by violence and persecution. A Polish couple, who waited 12 years for their first child, urging the Church to stand firm against anti-life ideologies and technologies. A Nigerian mother, giving voice to the vital role of women supporting victims of the Boko Haram terror group. A young Korean lady describing the economic challenges that convince women in her country to give up on courtship, marriage and children.
From New Zealand, we heard an impassioned plea for bishops to stop ignoring the gap between the Church's ban on artificial birth control and the way most couples decide what works best for themselves. From Australia, we heard about the devastating effect of sex abuse on families and communities, as well as the way the patriarchal structures of the Church continue to block women from playing their proper role in the family of faith. From the U.S. too, we heard a religious sister reiterate that call for greater decision making roles for women, while a Maltese sister also echoed the need for the Church to look more realistically at the problems of natural family planning.
Finally, for me, it was an Italian historian and journalist, wife and mother, who summed up the central truth for so many Catholic women today: it is they who are the real experts on family life in all its complex, contemporary shapes and forms, yet it is their voice which is so seldom heard or consulted when the real decisions are being made. How I hope the Synod fathers were listening carefully today.