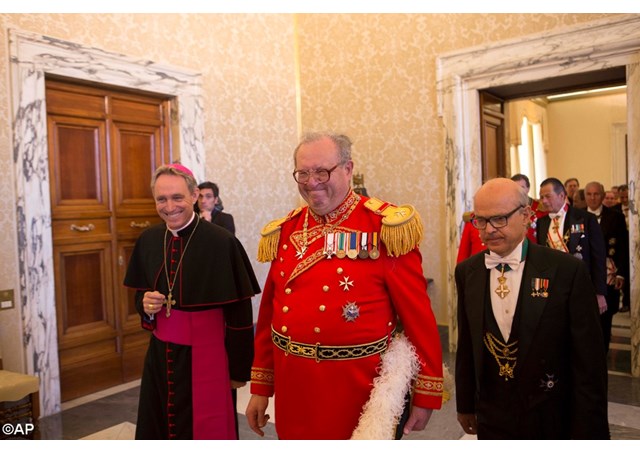 (Vatican Radio)  Fra' Robert Matthew Festing, the Prince and Grand Master of the Sovereign Military Order of Malta, recently visited the Order's charitable works in St. Petersburg, Russia.
His is the first visit to Russia of a Grand Master of the Order of Malta in 200 years.
Vatican Radio interviewed Fra' Festing during his official visit to St. Petersburg.
Listen to the full interview:
Speaking of the Order of Malta's desire to expand its charitable works in Russia, Fra' Festing said "the inner city problem is all over the world" especially the elderly and those too old to care for themselves.  "There are many people who need looking after, and I was extremely happy to meet some of them."
The Order of Malta's work is heavily reliant on volunteers, and in this context Fra' Festing emphasized the importance of collaboration between the Churches, saying "it's a good thing ... for all the Christian denominations to cooperate together". 
"In Europe, there is this huge amount of secular influence and it's extremely important that the Churches combine together, to work together, in order to confound that particular view. Because many people have a completely secular agenda and I think that's a very bad thing. They don't understand all sorts of Christian values: the value of the family, the value of looking after old people, the value [of charity as layed out in] the parable of the Good Samaritan. It's very important for all the Christian denominations - and not just Christians but Muslims, too - it's very important for all of us to work together. We will work together successfully if we combine; we will not be so successful if we are divided. So I'm very very keen to build bridges between the Orthodox Church, the Catholic Church, the Protestant Churches, the Evangelical Churches."