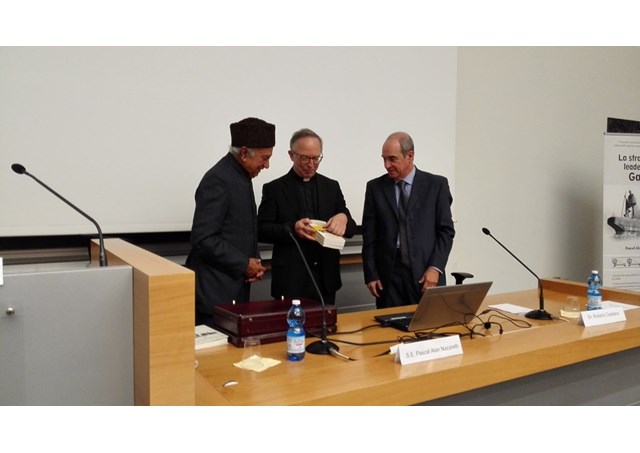 (Vatican Radio) The Italian edition of former ambassador of  India, Pascal Alan Nazareth's widely acclaimed book 'Gandhi's Outstanding leadership' was released at the renowned Pontifical Gregorian University in Rome, on Thursday, by its distinguished Rector, François-Xavier Dumortier SJ.
Roberto Catalano, of the centre of the Focolare Movement for interreligious dialogue, presided over the Programme and highlighted the importance of the book. Friday, October 2, is observed as the birth anniversary of Mohandas Karamchand Gandhi, the leader of the Indian freedom movement.  
While releasing the book, 'La straordinaria leadership di Gandhi', Dumortier, lauded the book as a great effort in propagating the Gandhian values, which he said are so similar to the non-violence preached and practiced by Jesus Christ.
Speaking of its importance in the present world, Dumortier said that it echoed the beatitudes of Christ. Noting that violence is always deadly and enslaving, he said "Without peace, national or international society will not last long."
He expressed great joy in knowing Ambassador Nazareth as a Jesuit Alumnus and wished him success in his efforts to spread the message and popularize the leadership style of Mahatma Gandhi.
Ambassador Nazareth spoke of the great and humbling honour he felt that the Italian Edition, the ninth foreign language edition of his book, had been released on the sacred soil of the Vatican. He focused on the practical impact that the great Indian soul has had on the world and its policies.
Referring to Gandhi's great reverence for Christ and of his dedicated effort to actually live the Sermon on the Mount, Nazareth cited concrete instances of Gandhi's respect for the teachings of Christ, quoting the words of the Mahatma. (the great soul, as he is known in India) . He also narrated anecdotes related to the theme, which one can find in his volume.
"Both have fought for truth and love," said Nazareth, adding "Gandhi used the expression 'non-violence', but on many occasions stated that the 'non-violence' is another way to understand the love."
Nazareth, who was one of the few Christians Ambassadors of India, said that the political and spiritual teaching of Gandhi is still very relevant and is essential for global justice and development. "What the world needs most today is justice, non-violence and the abolition of war," he said.  
Nazareth offered his manifold thanks to the distinguished Rector of the University for having released the Italian edition, and as a mark of esteem and gratitude, draped him with an embroidered Indian shawl.