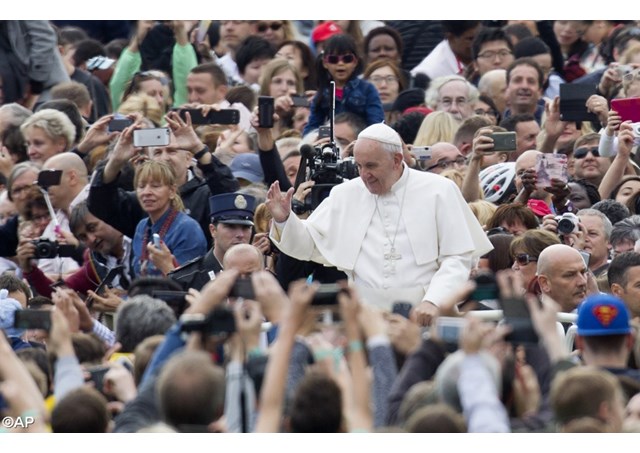 (Vatican Radio) In his first General Audience since his return from an Apostolic Journey to Cuba and the United States, Pope Francis recalled that visit in an overcast St Peter's Square on Wednesday.
Listen to Lydia O'Kane's report
He told the thousands of pilgrims and tourists gathered, that in Cuba, he wished to embrace all Cubans without exception, to proclaim the transforming power of God's mercy, and to renew the hope expressed by Saint John Paul II that Cuba will open itself to the world and the world to Cuba.  He also underlined how travelling from Cuba to the United States of America was a symbolic step, likening it to a bridge God is rebuilding.
The Pope said, God always wants to build bridges when we build walls, and he stressed, "walls always collapse."
Speaking about the next leg of his journey to the United States, the Pope called to mind his visit to Washington, noting America's tradition of religious freedom and its' contribution to the life of the nation. 
The Holy Father also recalled his address to the United Nations in New York, saying he, renewed the Church's encouragement for its efforts to promote peace, justice, integral human development and care for creation and reaffirmed his call to stop and prevent violence against ethnic and religious minorities and against civilian populations.
Turning his attention to the final part of his U.S trip, the World Meeting of Families in Philadelphia, Pope Francis said, it was an opportunity to celebrate "the beauty of God's plan for the family, which, as the fruitful covenant between a man and a woman, is the key to a future of authentic prosperity and solidarity for our world."
Then, the Holy Family, greeting English speaking pilgrims, asked for prayers for the Synod on the Family which opens on the 4th October, and invited them to to be witnesses of God's presence in the world and through family life.