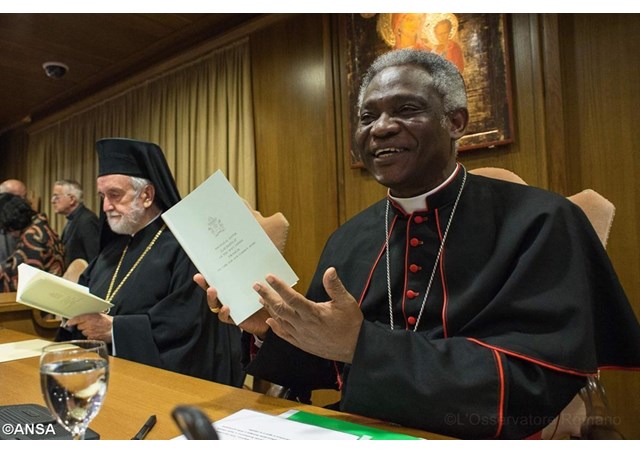 (Vatican Radio)  Cardinal Peter Turkson, President of the Pontifical Council for Justice and Peace, recently hosted (September 18-20) a conference in the Vatican for Church representatives and Chief Executive Officers (CEOs) of major mining conglomerates to discuss the impact of mining operations on local communities. 
The conference follows two similar events organized by the Pontifical Council for Justice and Peace, the first a 'day-of-reflection' for many of the same mining executives held in 2013.  Then in July 2015 Cardinal Turkson hosted a three-day meeting for representatives from communities impacted by mining operations across the world.
Executives and engineers attending last week's meeting represented major mining conglomerates, including Anglo American, Rio Tinto, and Newmont Mining, among others. 
Father Séamus Finn, OMI, – moderator of the conference – is the Board Chairman of the Interfaith Center on Corporate Responsibility, which comprises nearly 300 organizations and collectively represents over $100 billion in invested capital.  He is also the Chief of Faith Consistent Investing of the OIP Investment Trust. 
Devin Watkins spoke to Fr. Séamus Finn after the conference in a wide ranging interview about the goals of the meeting.
Listen to the full interview:
Fr. Séamus noted that Pope Francis' encyclical Laudato si' was one of the major advances between the 2013 day of reflection and the recent meeting, which laid out "some very important issues about the fact that we share the planet with all sorts of other species, 7 billion people, and that as the human population continues to grow, we have some serious issues to tackle in relationship to – as the Holy Father says – the earth as our common home".
He said that the meeting included presentations on Laudato si' and that some of the mining engineers and CEOs "had read some of the document and were familiar with some of the issues, but they were also curious about how do you actually take some of the things that are in the Encyclical and translate some of them into their operations at mine sites". 
"Most of the major companies", Fr. Séamus said, "have put in place social and environmental policies that would be seen as consistent with what the Encyclical is talking about.  I think the question always is are they doing it fast enough and, if you're living in an local mining community, can you actually notice that their doing something different."
The goal for the meeting was to aid in translating Church social teaching into practical, ethical directives, which could be implemented at mining sites to minimize the negative impact on local communities. 
"One of the challenges for the Church is that we kind of gloss over quite often the fact that God created the world and he created everything in it, which includes the air, the animals, the human beings, the plants, but he also created the minerals that are under the subsurface.  So how do we appropriately use them, how do we extract them, how much gold do we need, how much silver do we need?  It's a difficult balance and they [mining corporations] are coming to the Church and the churches and they're saying 'can you offer us some ethical, theological, religious wisdom about how we can be better companies'."