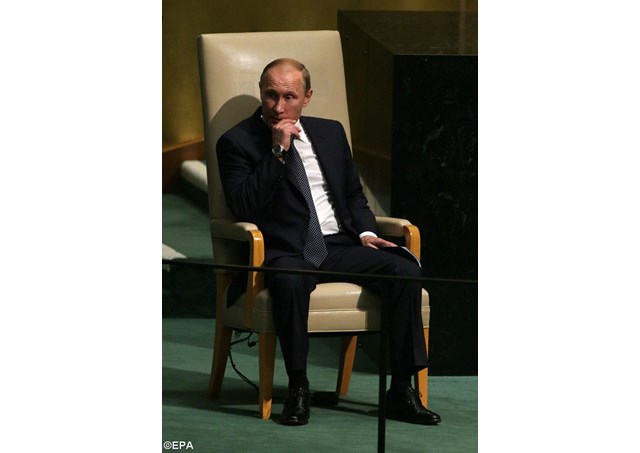 (Vatican Radio) Russian President Vladimir Putin has called for a regional "co-ordinating structure" against the so-called Islamic State militant group, but backed Syria's leader. He spoke ahead of rare talks with U.S. President Barack Obama as the Syrian crisis is expected to top the agenda at the United Nations in New York.
Listen to Stefan Bos' report:
Putin said he still supports Syrian President Bashar al-Assad, who Western countries and the Syrian opposition have said must go.
Yet, American and Russian envoys discussed a transitional government in Syria ahead of a high-stakes meeting between American President Barack Obama and his Russian counterpart Putin.
However Putin made clear in an interview with the "60 Minutes" program of CBS News television that in his words "there is no other solution to the Syrian crisis than strengthening the effective government structures and rendering them help in fighting terrorism."
Military support
And, he defended Russia's military support to the Assad regime. "We have been providing assistance to legitimate government entities only. In this regard we have proposed with countries in the region. We are trying to establish some kind if coordinated framework," he said. 
"I personally informed the president of Turkey, the king of Jordan. as well as Saudi Arabia of that. We informed the United States too,. We would welcome a collective framework against the terrorists," Putin added.
He also said that Russia would not participate in any troop operations" in Syria at the moment, but is looking into "intensifying" its work with Assad.
Washington's concerned that Russia is having an intelligence-sharing agreement with Syria and Iran. 
That announcement came while France joined a U.S.-led coalition conducting airstrikes against Islamic State in Syria, where war is believed to have killed more than 300,000 peoplel. 
So-called Islamic State forces
The coalition is also targeting IS forces in Iraq and training and advising Iraqi forces, but U.S. officials insist they are not coordinating their efforts with Iran.
This conflict is expected to be high on the agenda at the United Nations in New York as Europe faces its biggest influx of refugees, many from Syria, since World War Two.
Yet, tackling the crisis seems difficult as relations between Russia and the West have been strained over Moscow's annexation of Ukraine's Crimea peninsula last year and support for separatist rebels in Ukraine's eastern regions.
While speaking at the UN's 70th annual general assembly President Obama said that the world could not stand by while Russia "Ukraine sovereignty with impunity."