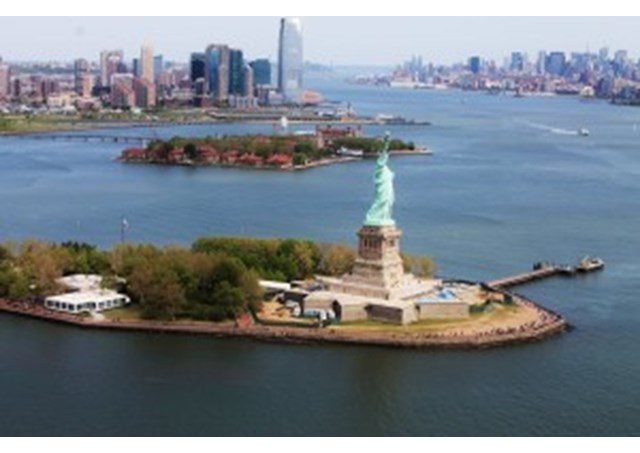 (Vatican Radio) Just before leaving New York for Philadelphia on Saturday morning, Pope Francis flew over the Statue of Liberty and Ellis Island, where millions of immigrants first set foot on American soil.
In a briefing for journalists in Philadelphia, Fr Federico Lombardi said the Pope travelled by helicopter from Downtown Manhattan to JFK airport, accompanied by the Archbishop of New York, Cardinal Timothy Dolan who pointed out the famous landmarks. The small island in the bay of New York, was the gateway for immigrants from all over the world who passed through the nation's busiest immigrant inspection station from 1892 until 1954.
Listen: 
Fr Lombardi also told journalists the Pope went into the cockpit of the plane headed for Philadelphia to watch the pilots coming into land on the last leg of his week-long U.S. visit.
The director of the Holy See press office said at times Pope Francis finds the action-packed schedule for the visit tiring, exacerbated by the pain in his legs, for which he receives regular physiotherapy.
Looking ahead to the key events that will mark the conclusion of the World Meeting of Families in Philadelphia, Fr Lombardi said the focus on the family has been a primary goal of the 10 day journey. He noted the Pope has spoken about the subject in Santiago de Cuba, at the White House, to the American bishops, to Congress and to the United Nations.
Asked whether Pope Francis may meet with survivors of clerical sex abuse before the end of the visit, Fr Lombardi said if such an encounter does happen it will only be announced after it has taken place.
Also answering journalists questions at the press office in Philadelphia on Saturday was the head of the U.S. bishops conference, Archbishop Joseph Kurtz, who shared his thoughts on the key message that the Pope is bringing to the Church in the United States...
"He seems to be saying you basically will find your identity in the manner in which you care for others……not just to the priest, and men and women religious, or the bishops, but to all the baptized and probably to all people of goodwill…"