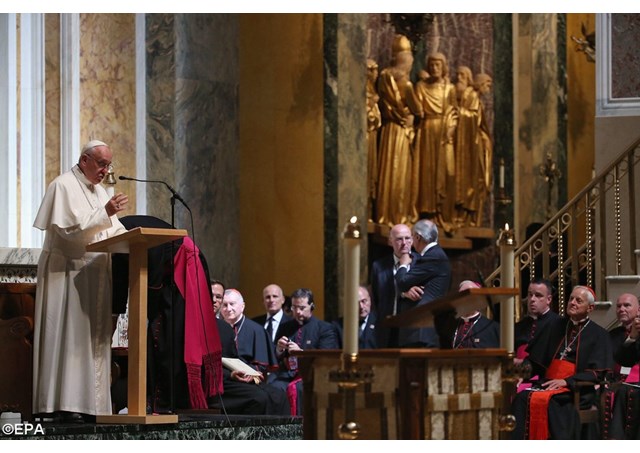 (Vatican Radio) Pope Francis sent greetings to the Jewish community, as they celebrate Yom Kippur,  the Day of Atonement.  It is considered the holiest day on the Hebrew calendar.  The Holy Father was speaking to the United States Bishops in St. Matthew's Cathedral in Washington, DC. 
"I would like to send my greetings to the Hebrew community, to our Jewish brothers, for whom today is a sacred day, Yom Kippur," Pope Francis said.  "I hope the Lord brings down his blessing of peace and will keep in life and holiness, according to the Word of the Lord we have heard today: Be Holy, for I am Holy," he continued.
The Shalom Center, a Philadelphia-based Jewish community, organized a Yom Kippur service at Washington's Lincoln Memorial, to bring attention to the issue of the environment.  The service not only used passages from rabbinical literature, but also quoted Pope Francis' Encyclical Laudato Si'.
"The fact that the pope has spoken out so powerfully and so clearly [on climate change], and the fact that he is going to be speaking at the UN and Congress and meeting with the president, means that the work many of us have been doing for years is on the front page," said Rabbi Arthur Waskow, who founded The Shalom Center.  He told the Huffington Post the Pope's message on the environment "takes the work we're doing it and gives it front and center place in people's consciousness."