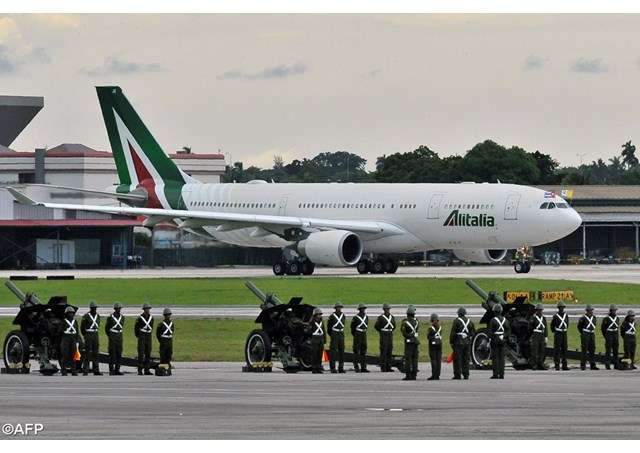 (Vatican Radio) Pope Francis flew from Cuba to the United States on Tuesday. As is tradition he sent a telegram to the countries he overflew.  
We reproduce them below:
HIS EXCELLENCY RAÚL CASTRO RUZ
PRESIDENT OF THE COUNCILS OF STATE
AND OF THE MINISTERS OF THE REPUBLIC OF CUBA
HAVANA
AS I DEPART FROM CUBA, I WISH TO EXPRESS MY DEEP GRATITUDE TO YOUR EXCELLENCY AND TO ALL THE CUBAN PEOPLE FOR YOUR WARM WELCOME TO THE COUNTRY.  I INVOKE THE BLESSINGS OF ALMIGHTY GOD UPON YOU ALL AND I ASSURE YOU OF MY PRAYERS FOR YOUR PEACE AND PROSPERITY.
                                                                                                                             FRANCISCUS PP.
Sorvolo Le Bahama – 22 settembre 2015
HER EXCELLENCY DAME MARGUERITE PINDLING
GOVERNOR-GENERAL OF THE COMMONWEALTH OF THE BAHAMAS
NASSAU
AS I PASS AGAIN OVER YOUR NATION, I WISH TO RENEW TO YOUR EXCELLENCY AND YOUR FELLOW CITIZENS THE ASSURANCE OF MY BEST WISHES, AND I INVOKE THE BLESSING OF ALMIGHTY GOD UPON THE BAHAMAS.
                                                                                                                             FRANCISCUS PP.