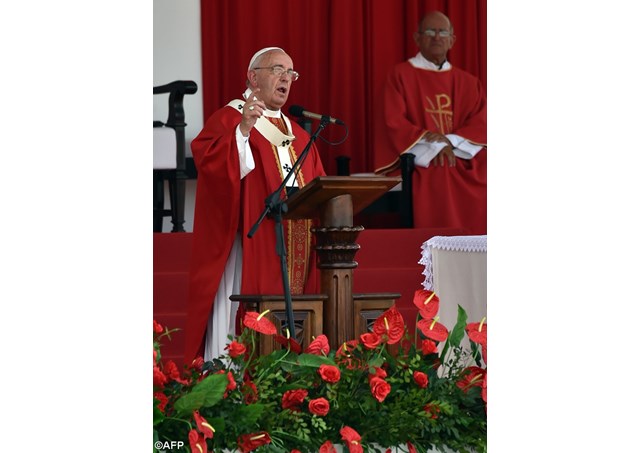 (Vatican Radio) On the morning of Monday 21st of September, the day the Church remembers Saint Matthew the Apostle and Evangelist, Pope Francis presided over Holy Mass at Holguin's 'Plaza de la Revoluçion'. 
Listen to Veronica Scarisbrick's report on the words of Pope Francis during his homily:
It's the first time a Roman Pontiff visits Holguin, the third largest city in Cuba which lies in the south east of this island nation and for the record is where Christopher Columbus landed in 1492.
And so the presence of  Pope Francis in what's also the largest diocese of the Catholic Church  in Cuba drew thousands of faithful  to the city's 'Plaza de La Revoluciòn', as he presided over Holy Mass. Faithful who listened in silence when he delivered his homily drawing inspiration from the Saint of the day, the Apostle and Evangelizer, Saint Matthew.He highlighted the  figure of this former tax collector, considered at the time to be a traitor. One whom he pointed out underwent a conversion when Jesus, as none had ever done before, rested his gaze upon him with the eyes of mercy.
A gaze which he remarked unlocked Matthew's  heart, setting him free and filling  him with hope for a new life. And Pope Francis added, even if we do not dare to raise our eyes to the Lord, we too can feel his  merciful gaze rest upon us. Because Jesus can anticipate our needs, he went on to explain, he can see beyond appearances, beyond sin, beyond failures and unworthiness and  beyond our social rank. He came precisely to seek out all those who feel unworthy. Let us allow the gaze of Jesus to look at us and  to become our joy, our hope.
And may this  give rise to missionary activity, service, self-giving.  Jesus' love heals our short-sightedness and pushes us to look beyond,  not be satisfied with appearances. He invites us to follow him when it comes to showing tenderness and mercy towards the sick, prisoners, the elderly and families in difficulty. 
Finally Pope Francis highlighted the effort and the sacrifice of the Church in Cuba to bring Christ's word and presence to everyone, even in the most remote areas, entrusting those present to Cuba's Patroness, the Virgin Mary, Our Lady of Charity of El Cobre, May her "eyes of mercy", he concluded, keep watch over each of you, your homes, your families, and all those who feel that they have no place. May she protect us all as she once cared for Jesus.