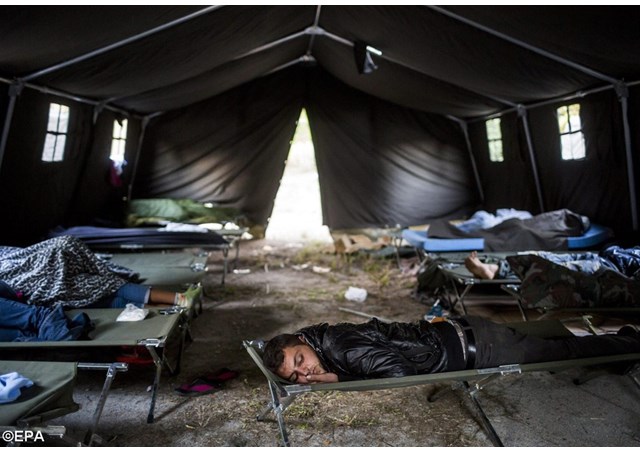 (Vatican Radio) The European Union enlargement commissioner has proposed to allocate 1.1 billion dollars to help Turkey deal with the refugee crisis. Johannes Hahn made comments as tensions rise among neighbouring countries in Eastern Europe and the Balkans on how to deal with the influx of thousands of migrants fleeing war and poverty. 
Listen to Stefan Bos' report:
Desperate pleas to allow them into Slovenia were not fulfilled overnight: Baton wielding Slovenian police using tear gas soon dispersed a group of migrants, some with children.
Several people required medical treatment for eye injuries following the clashes on the Croatian-Slovenian border.
Croatia's government admits that it dumped these people here, but Slovenia has made clear it can not accept everyone. Refugees want to travel through Slovenia to wealthier Western nations.
Similar scenes have been unfolding near Croatia's border with Hungary, another key transit country towards the West. Overnight Hungary even completed a 41-kilometer long razor wire barrier along the border with Croatia to keep migrants out. It already had a 175 kilometre anti migration razor wire fence along its border with Serbia.  
MORE BAD NEWS
And there is more bad news for refugees: Asylum-seekers who headed westward into Croatia after being beaten back by tear gas and water cannons on the Serbian-Hungarian border this week now find themselves being returned to Serbia or to Hungary.
Croatia's Deputy Prime Minister and Minister of the Interior - Ranko Ostojić, has confirmed to Vatican Radio that Croatia has closed its borders for new refugees.  "It is not the system like in Hungary like in Hungary with a wall of something like that, but the border is closed. Asked what will happen with new refugees arriving in Croatia he said: "They will be arrested and brought to the reception centres."
Croatia says the measures are needed as more then 20,000 refugees arrived in this nation of just four million people.
But many of them have been pushed into neighbouring Hungary since late Friday, explains Hungarian government spokesman Zoltán Kovács. "The Croatian system for handling refugees has basically collapsed in one day," he told reporters. "What we see today is a complete failure of the Croatian state to deal with migration issues. What is more, what we see is intentional, intentional, participation in human smuggling taking these migrants to the Hungarian border. Today there was a major incident with an unannounced train has arrived carrying over 1000 migrants with 40 Croatian policemen on board, This is a major violation of international law and obviously of the border, so we are taking care of the situation. ". .
Despite the standoff at least some 7,000 refugees arrived through Hungary into Austria since midnight Saturday.
MAJOR CRISIS
Yet, Europe's biggest refugee crisis has added to the worst tensions between neighbouring countries in years.
On Saturday the government even mobilized hundreds of army reservists to help with what authorities called the mass migrant crisis.
And Hungary warned that it would block Croatia's attempt to join the European Union's borderless Schengen Zone, though that project looks increasingly fragile. Hungary's rightwing Prime Minister Viktor Orbán tried to play down the tensions Saturday.
While thousands of men, women and children struggled to escape to Western Europe, he opened a tourism centre at a mountain resort saying Hungarians wanted to defend their lifestyle and build up a normal life.