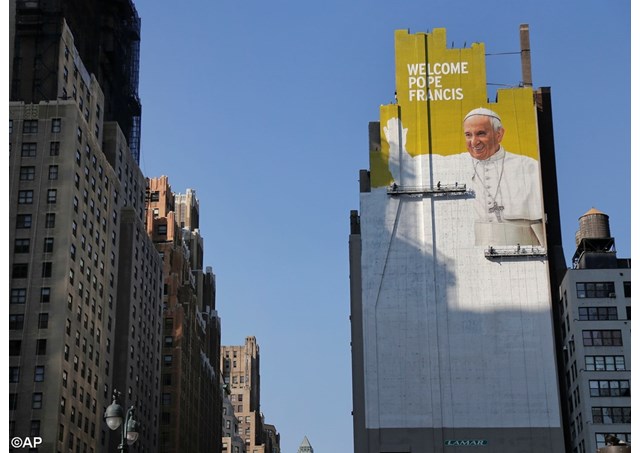 (Vatican Radio) The Director of the Holy See's Press office, Father Federico Lombardi, described the upcoming visit by Pope Francis to Cuba and the United States as a long, complex but wonderful journey.  His remarks came at a briefing for journalists on the papal visit which runs from the 19th to the 28th of September.
Father Lombardi noted that Pope Francis will be the third Pope to visit Cuba, following those made to the Caribbean island by his two predecessors, Popes Benedict and Saint John Paul II.  Pope Francis' engagements in Cuba include an open-air mass in Havana during which he will give first communion to five children in a move symbolizing hope and growth for the Catholic Church there.  Father Lombardi said although it was not included in the papal programme, he could not rule out a possible meeting between the Pope and Cuba's former long-time leader Fidel Castro. Other highlights of the papal visit to Cuba include a meeting with young people in the capital, a visit to the Shrine of Our Lady of Charity of Cobre and an encounter with families.  
On leaving Cuba on September 22nd, the Pope will fly to Washington D.C. where he will be greeted by President Obama and other civil and religious authorities.  The official welcoming ceremony for him will take place the following day at the White House.  During his stay in the U.S. capital, Pope Francis will preside over the canonization Mass for the Spaniard, Blessed Junipero Serra, who helped evangelize the United States in the 18th century.  The next day, September 24th, sees Pope Francis become the first Pontiff ever to address both houses of the U.S. Congress. Another keenly-awaited event during this visit will take place in New York City on September 25th when the Pope is due to address the United Nations. He is also scheduled to make a visit to Ground Zero, the site of the 9/11 attacks on the Twin Towers.
Pope Francis' final leg of his U.S. visit takes him to the city of Philadelphia where he will attend the Church's World Meeting of Families.  Father Lombardi said that in all three stops of his visit, the Pope will be paying particular attention to the welfare of the poor, to prisoners and to charitable initiatives.  During his trip, Pope Francis will make a total of 26 speeches, 8 in Cuba and 18 in the U.S. of which four will be in English and the rest in the Pope's native Spanish. He returns to Rome on the morning of Monday September 28th.