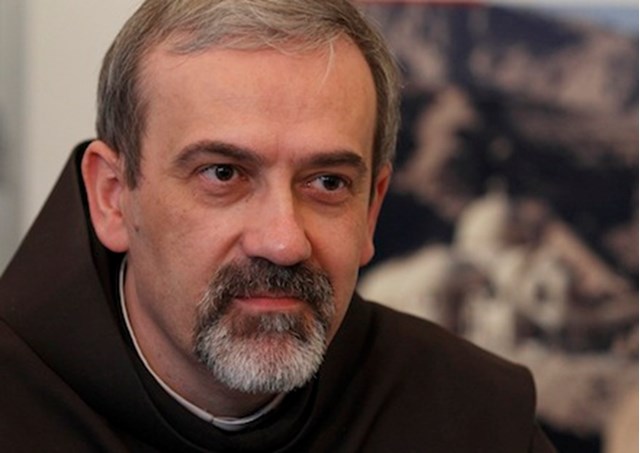 (Vatican Radio) The Council of European Episcopal Conferences (CCEE) this week is holding its Plenary Assembly in the Holy Land.  The meeting came at the invitation of His Beatitude Fouad Twal, Latin Patriarch of Jerusalem.
By accepting the invitation for the Holy Land to host their meeting, the Presidents of the Bishops' Conferences said it allowed for the meeting to be a pilgrimage to the very roots of European culture.
"The Gospel arrived in Europe having set out from this land, too! When Europe goes to the Holy Land, it is going, therefore, to the place of its Judaeo-Christian roots," said Msgr. Duarte da Cunha, General Secretary of CCEE.
"This area of the world has always been a crossroads of civilisation, permeated by great cultural differences and at times by strong social tensions which in the past have united and today still continue to bind Europe and the Middle East", he added.
Father Pierbattista Pizzaballa, OFM, is the Custos of the Holy Land, the head of the Franciscan Province ("Custody") which has care of the Holy Places in the Holy Land.
Listen: 
He told Vatican Radio the European Bishops can promote solidarity with the region's Christians in a very practical way.
"The ways of cooperation of the Churches in Europe and the Churches in the Holy Land are always new, but also always the same traditional ways," Father Pizzaballa said. "And the main one is the pilgrimage."
Father Pizzaballa noted the strong historical connection between the European Churches and the Church in the Holy Land.
"After all, we all belong to the mother-church in Jerusalem," he explained.  "Pilgrimage is the tangible expression of this connection."
Father Pizzaballa also said the presence of pilgrims is a sign to others.
"The pilgrims are not only a very important resource for the support of the Christian community here in the Holy Land," he said, "but also a very concrete way to show and make visible to all of the inhabitants in the Holy Land the very strong important bond between the Churches in Europe and the Churches in the Holy Land."