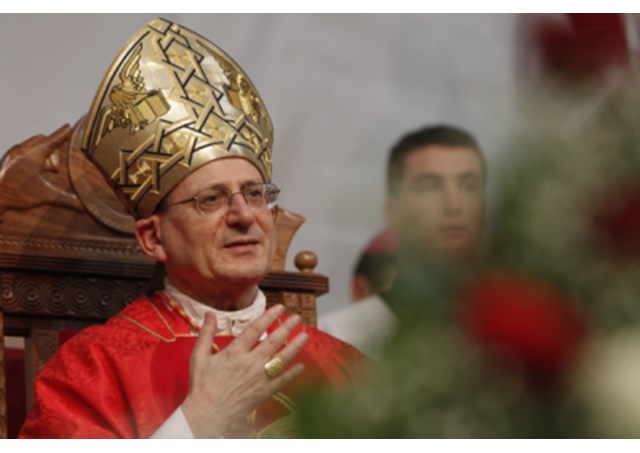 The martyr Tshimangadzo Samuel Benedict Daswa is to be beatified 13 September in Thohoyandou, Limpopo, South Africa. 
"A layman, father of a family, diligent Catechist, caring teacher, a witness of the Gospel even to the point of shedding his blood." This is how Pope Francis describes Benedict Daswa in his letter to the beatification ceremony. Cardinal Angelo Amato revealed this when he spoke to Vatican Radio. 
Cardinal Amato the Prefect of the Congregation for the Causes of Saints is in South Africa to preside over the beatification ceremony of Benedict Daswa. The Cardinal told Vatican Radio's Roberto Piermarini that Pope Francis' description of Benedict Daswa was spot on. "It is the complete portrait of Benedict Daswa, whose traditional name, Tshimangadzo (in the Tshivenda language) means 'something that is amazing, a great surprise, a miracle of grace.' The Holy Spirit transformed this young South African into an authentic hero of the Gospel. His heart was full of love for God and neighbour. Benedict Daswa is like the first martyrs of the Church who, during the persecutions of the Roman emperors, defended their faith with prayer, courage and forgiveness of enemies," Cardinal Amato said.
According to Cardinal Amato, by beatifying Daswa the Catholic Church is inviting the faithful "to nourish only feelings of love, of brotherhood, harmony, solidarity beyond any ethnic, social and religious divisions," the Cardinal said.
Also commenting on the beatification of Daswa, the Archbishop of Pretoria in South Africa, William Slattery has said, Daswa's beatification was a sign that he died for his faith in Jesus and that is why the Church celebrates him for who he was. Archbishop Slattery made these comments in an interview with SABC –TV in South Africa.
The Archbishop further explained that people who are saved by Jesus Christ, people who allow the grace of Christ to penetrate their lives, are called to sanctification. Since 2000 years ago, the Chruch has been a symbol of Christians living the Gospel. By beatifying Daswa the Church was acknowledging that, "He died because of his trust in God and because of his belief in the Scripture," the Archbishop said.
Henceforth Benedict Daswa will be an example not only to South Africans but to the whole world.  Archbishop Slattery said through the beatification, "The Pope is saying: People of the world, here is an ancestor, a spiritual ancestor…an example for the whole world …and also our companion on the road towards God because we are all a family; living and dead, we are all moving towards God," said the Archbishop of Pretoria.
"Saints and Blesseds are God's gift to us, an example of God's grace at work in his people," the Archbishop added.
(By Fr. Paul Samasumo and Sr. Gloria Yariok,MSPP at Vatican Radio)
e-mail: engafrica@vatiradio.va