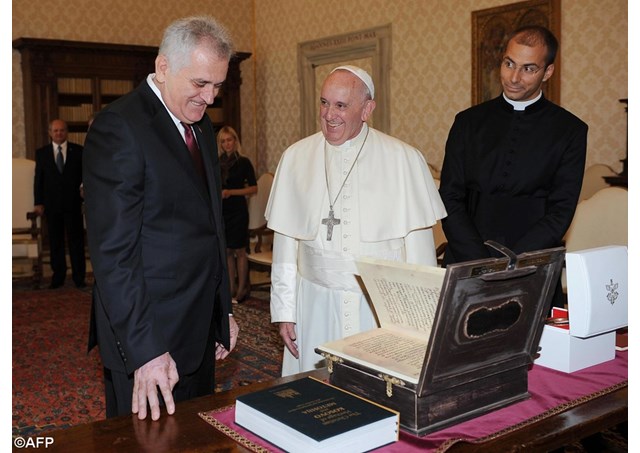 (Vatican Radio) Pope Francis met on Friday with the President of the Serbian Republic Tomislav Nikolic to discuss common interests, including the current refugee crisis, as well as relations between the Catholic and Orthodox Churches in the Balkan country. A statement from the Vatican press office after the private meeting said the two leaders also discussed Serbia's progress towards integration into the European Union and the Catholic Church's contribution to the common good of Serbian society.
Please find below the full text of the press office statement on the Pope's meeting with the President of the Serbian Repubblic:
This morning, 11 September 2015, in the Vatican Apostolic Palace, the Holy Father received in  audience  His  Excellency  Mr.  Tomislav  Nikolić,  president  of  the  Republic  of  Serbia,  who subsequently met with His Eminence Cardinal Secretary of State Pietro Parolin, accompanied by His Excellency Archbishop Paul Richard Gallagher, secretary for Relations with States.
In the cordial discussions, the good existing relations between the Holy See and the Republic of Serbia were demonstrated, and the parties considered issues of mutual interest regarding the relationship between the ecclesial and civil communities, with particular reference to ecumenical dialogue and the contribution of the Catholic Church to the common good of Serbian society.
Attention then turned to Serbia's progress towards full integration in the European Union, as well as various situations of a regional and international nature, including the condition of Syrian and Iraqi refugees and displaced persons, and the importance of promoting a shared solution to the current crisis.