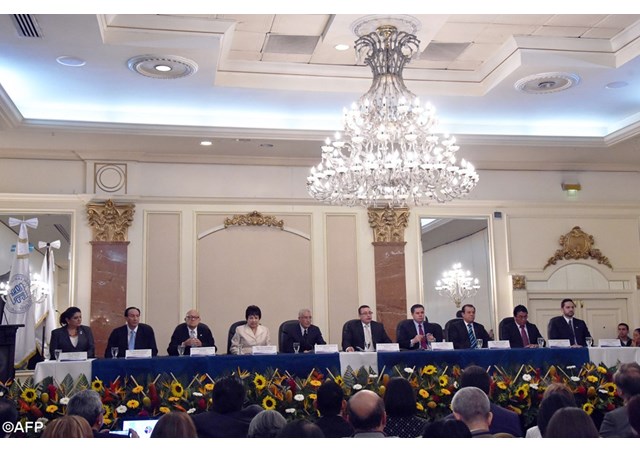 (Vatican Radio) A comedy actor leads the first round of Guatemala's presidential election, but it's still not clear which one of two other candidates running neck and neck, will join him into the second round.
Listen to James Blears' report:
The man who would be President on the silver screen playing a clueless cowboy, has taken the first step in transforming fiction into reality. Jimmy Morales, the candidate of the National Front Party Convergence, won his place in round two of Guatemala's presidential election, with almost 24 percent of the vote.
Currently in second place is former First Lady Sandra Torres candidate of the National Unity of Hope Party. She's gained 19.6 percent of the vote. Meanwhile Manuel Baldizon of the Renewed Democratic Liberty Party has 19.5 percent.
Sandra Torres claims victory, insisting the trend she's setting is irreversible. The Supreme Electoral Tribunal does not agree, because it's a question of a lead of less than 3,000 votes, while there's still more than two percent of the overall votes remaining to be counted. Due of this competitive closeness, it will be done district by district, with full results hopefully by Friday. It is more of a nail biter for Baldizon because although he was one of the two candidates to make it to the second round last time around in Guatemala's Presidential Election, he lost the runoff to Otto Perez Molina, who has recently resigned and is in jail on corruption charges.
The second round runoff is on October 25th and the new President will be inaugurated on January 14th.