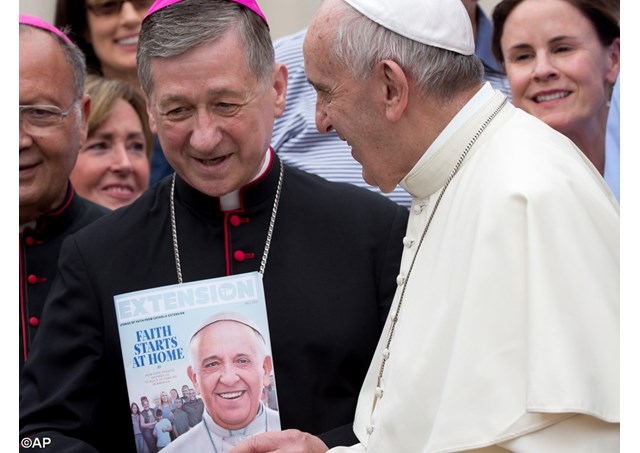 (Vatican Radio) Chicago's new Archbishop, Blase Cupich, was in Rome this week with board members of Catholic Extension – a national fundraising organization committed to supporting and strengthening poor mission dioceses in the United States. Established by Pope St Pius X in 1905 as a "papal society" with a mission to build churches in America's most rural regions, Catholic Extension remains committed to strengthening and supporting the Catholic Church across the United States.
While in Rome, Archbishop Cupich took time to come to Vatican Radio, where he spoke with Christopher Wells about his meeting with Pope Francis and about the Holy Father's upcoming visit to the United States.
Listen: 
The meeting with Pope Francis, said Archbishop Cupich, "was an opportunity for us to welcome the Holy Father to the United States, not only on behalf of the dioceses he's going to visit, but [also] the 94 dioceses that Catholic Extension would help throughout the year – 94 in all that mostly are rural and poorer dioceses. So it was an opportunity for us to welcome him to the United States on behalf of that broader community."
Archbishop Cupich has been a Bishop for seventeen years, the majority of that time being in smaller dioceses. His first assignment as a Bishop was to the Diocese of Rapid City, South Dakota, one of the smallest dioceses (by Catholic population) in the country. Later he served as Bishop of Spokane, Washington. He said, "It is an experience of being a part of mission dioceses that moves me to want to have Catholic Extension succeed."
During their visit with the Holy Father, Archbishop Cupich, with the representatives of Catholic Extension, also had the opportunity to present Pope Francis with a cross that had belonged to Blessed Junipero Serra, a Spanish Franciscan missionary who evangelized much of the southwestern United States. Junipero Serra carried the cross with him from Spain and was buried with it when he died. ""It was important, I think, as a gesture, to allow the Holy Father to see this cross, to touch it," Archbishop Cupich said. "And then he took it in a very caressing way and kissed it, and he was very touched by that."
He connected the visit of Pope Francis to the United States with the missionary labours of Bd Junipero Serra. Now, he said, we have "this new Francis, this new Franciscan, come again to bring the Gospel to the United States, and being in touch with that initial impulse of the Franciscan order in sending Serra, Father Serra, bringing it really to full circle." Archbishop Cupich said he hopes the cross will be on the altar when Pope Francis celebrates the canonization Mass for Blessed Junipero Serra in Washington on September 23.
Finally, Archbishop Cupich had words of greeting for his flock in Chicago. He said he prayed for all of them at the tombs of Saints Peter and Paul in Rome, with the realization that "as we move forward as a local church, we depend on the support and the unity that we enjoy with the See of Peter."