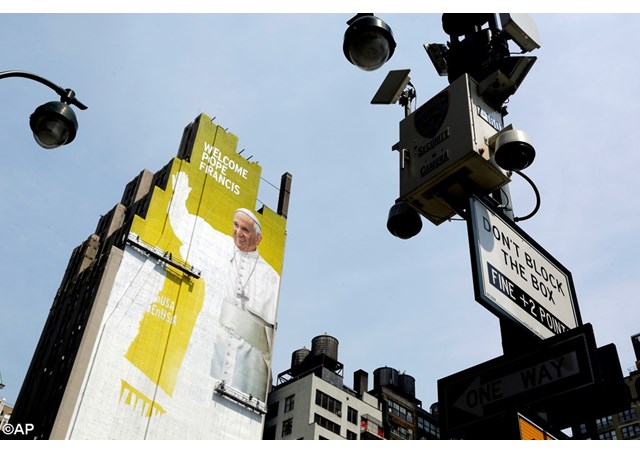 (Vatican Radio) Pope Francis told the people of the United States he wanted to "draw close to their path and history" during his upcoming visit to the United States.
Pope Francis was speaking to three-groups around the country via satellite during a Virtual Audience which aired Friday evening on the television programme 20/20.
Listen to Charles Collin's report
The encounter was filmed on Monday, was moderated by ABC News.  For one hour, Pope Francis spoke from the Vatican via satellite to people in an inner-city high school in Chicago, with homeless people in Los Angeles, and a border-community in McAllen, Texas.
He was not making doctrinal statements, but acting as a pastor.
In one example during the meeting, Ricardo Ortiz told the Holy Father he lost a scholarship to university, since he was not a US citizen. Due to an injury his father suffered, he became the breadwinner for his family.
"We are all created for friendship in society. All of us bear responsibility for everyone else," Pope Francis said. "And each one has to make a choice in his or her heart. And we have to help that choice to be made in the heart. Escaping it through addiction, through violence, does not help. Only closeness and giving of myself, all that I have to give, the way you gave everything you could as a boy, when you supported your family. Don't forget that."
Afterwards, Ricardo said Pope Francis is "really doing something to make a difference," .
Pope Francis also spoke to Sister Norma Pimentel, the executive director of Catholic Charities of the Rio Grande Valley. 
"I want to thank you, and through you to thank all the sisters of religious orders in the U.S. for the work that you have done and that you do in the United States," Pope Francis said. "It's great. I congratulate you. Be courageous. Move forward."
But Pope Francis did not stop there.
 "I'll tell you one other thing," he added. "Is it inappropriate for the Pope to say this? I love you all very much."
Pope Francis told the people of the United States what is important to him is "closeness," saying it is "difficult" for him not to be close people.
"When I approach people, as I'm going to do with you, it's easier for me to understand them and help them along life's path," Pope Francis said. "That's why this trip is so important, for me to draw close to your path and your history."
You can find the full video here.