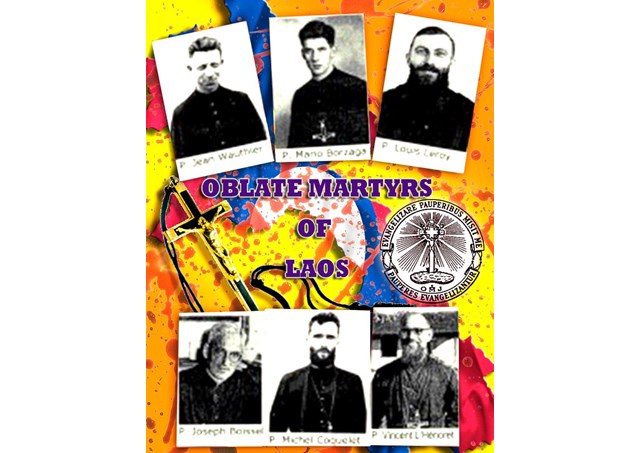 Laos will soon have its first group of Blessed that is on the way to sainthood – all of them martyrs of the last century.  On May 5, Pope Francis authorized the promulgation of the decree for the beatification of Oblate of Mary Immaculate (OMI) priest Fr. Mario Borzaga of Italy and his Laotian catechist, Paul Thoj Xyooj.  A month later, on June 5, the Holy Father authorized the promulgation of the decree for the beatification of 15 others who were martyred in Laos.  The group of 17 called as  "Joseph Tien and his 16 companions", after 35-year old local priest and first Laotian martyr, Fr. Joseph Tien, includes European missionaries from France and one from Italy and local Laotian Catholics.  The day of their Beatification is still to be announced. 
German Oblate of Mary Immaculate priest Fr. Thomas Klosterkamp is the postulator or promoter of the sainthood cause of these martyrs.  Last week, in the first of a 2-part interview to Vatican Radio, Fr. Klosterkamp explained how the sainthood process of the 17 martyrs began and how they met their supreme sacrifice.  He classified them into 3 categories – namely, 6 native Laotians, 5 Paris Foreign Missionaries and 6 OMI missionaries. Their martyrdom took place between 1954 to 1969 amidst the enormous upheavals in the wake of World War II and the other regional wars, which culminated in the expulsion of all foreigners.  Fr. Klosterkamp spoke briefly about the beginning of the Church in Laos where Catholics make up a mere 1.5% of the population. 
Well today, in the final part of this interview, Fr. Klosterkamp begins by explaining the difference between the process of sainthood  of a martyr and that of a holy person, non-martyr.
Listen: