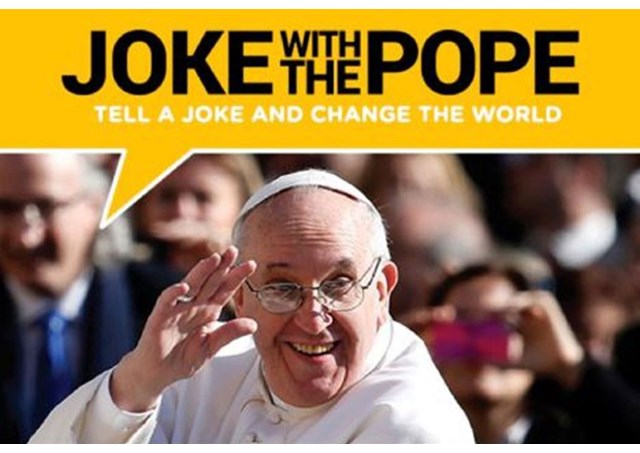 (Vatican Radio) Share a little laughter while supporting a good cause. That's the goal of a new initiative that was launched in the United States on Wednesday, just two weeks ahead of Pope Francis' pastoral visit to Washington, New York and Philadelphia.
'Joke with the Pope' is a new digital campaign encouraging people everywhere to send in their favourite joke while, at the same time, donating to one of three causes to help those most in need in Kenya, Ethiopia or Argentina.
The novel idea, which has already attracted a host of top American comedians, comes from the Pontifical Mission Societies, founded almost two centuries ago, to spread the faith and support thousands of educational and health centres across the developing world. In a message, sent to the head of the U.S. office, Oblate Father Andrew Small, Pope Francis says he likes to laugh, adding that happiness is "one of the most precious gifts" we have received from God. When we become "missionaries of happiness" and share laughter with each other, the Pope says, "God's love is present in a special way".
This week the Pontifical Mission Societies are also launching a new 'Missio' app providing detailed information about their work and about the ways in which people can connect to other projects and organisations in different parts of the world. To find out more about the funny and serious side of this new digital campaign, Philippa Hitchen sat down with Fr Andrew Small and asked him where the idea came from:
Listen:
Fr Andrew says the idea springs from Pope Francis himself who encourages people to be "full of joy, full of humour" and who believes that being a good evangliser means "exhibiting that joy, even if it's not easy at times". He says that despite the differences between people, "one thing unites us - that's humour".
Fr Andrew also describes the three projects that will benefit financially from this campaign: one is a centre for the poor and homeless set up by Mother Teresa in the Ethiopian capital, Addis Ababa in 1974, the seocnd is a programme for children in need run by Argentinean Father Pepe, a friend of the former Archbishop Bergoglio of Buenos Aires, and the third is a project to feed the hungry in Nairobi, where a group of religious sisters are going back to school to study farm management and train others in local farming techniques.
All you have to do, he says, is nominate your joke for one of these three causes and whichever joke contributes the most will win $10.000 to donate to the work of the designated project. Jokes can be uploaded to www.JokeWithThePope.org in English or Spanish, written or recorded, but don't delay because they must be submitted by October 2nd and the winner will be announced on October 5th.