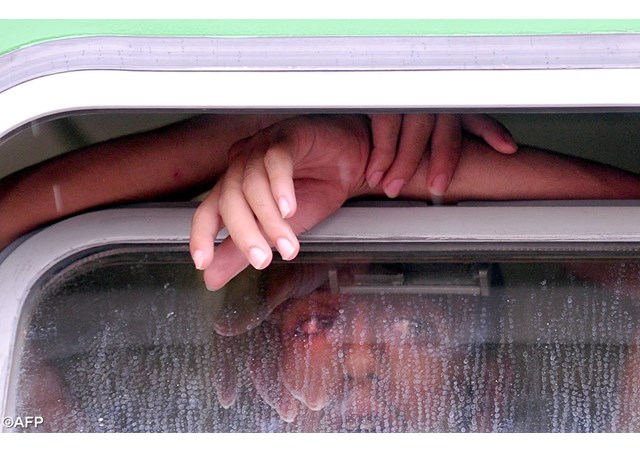 (Vatican Radio) Tension is high in Hungary as police try to keep refugees and migrants from boarding trains directed towards Germany and Austria.
A train laden with migrants left Budapest on Thursday morning hours after police let them into the railway station following a two-day stand-off, but them tried to force them to go into a camp for asylum seekers in the town of Bicske.
The Hungarian government meanwhile has asked Caritas Hungary to intervene and provide basic humanitarian aid to the refugees and migrants, starting with those in camps.
 
Linda Bordoni spoke to the Head of Caritas Hungary Emergency Response, Balint Vadasz, who explains that Caritas will expand its operation outside the camps and create "transit zones": spaces in the city where refugees will be able to obtain assistance.
Listen to the interview: 
Vadasz, who has been talking to people at the train station where clashes with police officers have fueled tension and anger, says that the migrants and refugees can be divided into two groups: the first, consisting mostly in women and children that is patient, cooperative and subdued; the other, more numerous, he describes as "hardcore" and consists mostly of people who are fueling discontent and he says are provoking aggressive behavior.
Vadasz says that although there are many Syrian refugees amongst the crowds of migrants, there are also many economic migrants who attempt to pass as refugees but come from countries like Albania and Afghanistan.
He says that about 80% of them are men; the remaining 20% are families with children. 
He speaks of the living conditions of the people trying to board trains at Budapest Station. He says the situation is extremely difficult for ordinary Hungarians.
He also describes the situation of utter chaos in the city where parks and streets are filled with wandering people who cause huge problems to the traffic and overun with litter - making everyday life unsustainable for citizens.
At the moment – he says – Caritas is providing basic humanitarian assistance to those in the camps but plans to expand its emergency response programme by creating spaces – "transit zones" - in the city of Budapest where refugees will be able to be assisted with a number of projects including special healthcare programmes for children and babies.
Vadasz reiterates that most migrants want to go to Germany so they do not want to be registered in Hungary as that would block them from proceeding until their asylum requests are processed so "this is a problem point" he says.
Vadasz says Pope Francis' appeals to show solidarity towards our migrant brothers and sisters are extremely important and encouraging: "we are showing it with our work and that's why we are doing what we are doing" he says.