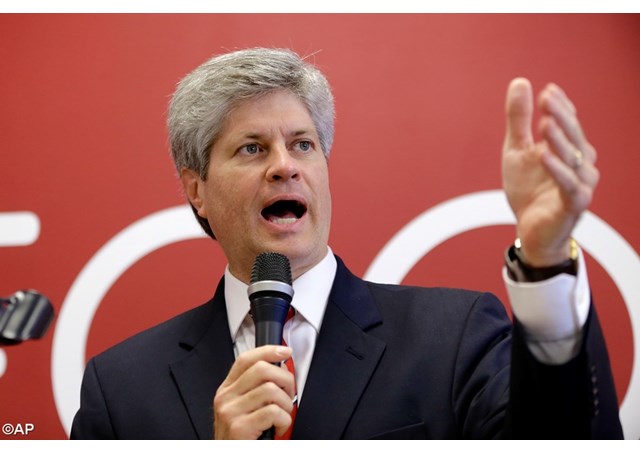 (Vatican Radio) Pope Francis launched a pair of appeals to legislators and the international community on Sunday which centered on religious freedom, violent persecution against Christians, and the ongoing migrant crisis.
The calls came as Catholic lawmakers from around the world were gathered in Rome for the annual meeting of the International Catholic Legislators Network (ICLN), and on the same day the Holy Father met with the participants in private audience. One of the people taking part in the gathering is US Congressman Jeff Fortenberry of Nebraska, who spoke with Vatican Radio about the ICLN and about the meeting with the Holy Father.
"[ICLN] is a diverse group of parliamentarians and public officials from around the world," Fortenberry explained. "We're gathered for fellowship and prayer, and study – but also to examine the various assaults on human dignity, and what we should be doing about them as parliamentarians and legislators."
The Republican Congressman from Nebraska also told Vatican Radio Pope Francis received his group warmly, listened intently, and offered words of encouragement.
Fortenberry said that there is growing appreciation among US lawmakers of the gravity of the plight of religious minorities and especially of Christians in the Middle East. "The awareness is growing – but even more than awareness – the desire to do something," he said. "Christian people, and other religious minorities, have every bit the right to be in their ancient homelands as anyone else."
The Congressman also discussed the potentially disastrous social effects of the loss of Christian presence in the Mideast region, some of which are already being felt. "In fact," he said, "if you lose the Christian presence, which has traditionally served as a leavening influence in the Middle East – being buffers between other people who have grave tension."
Fortenberry went on to say how "[Christians] have traditionally provided a level of professional services to the non-Christian community in a very significant way. Thus, he argued: "If you empty the Middle East of Christianity, it is not only a grave injustice, it is going to create further turmoil."
The broad-ranging conversation went on to touch on concrete efforts to stabilize the Middle East, as well as major themes related to the protection and preservation of religious freedom in the United States, where Pope Francis is to visit at the end of September.
"I'm hopeful the Holy Father will address [these issues] clearly, and strengthen the resolve of legislators."
Click below to hear Congressman Jeff Fortenberry's extended conversation with Vatican Radio's Chris Altieri