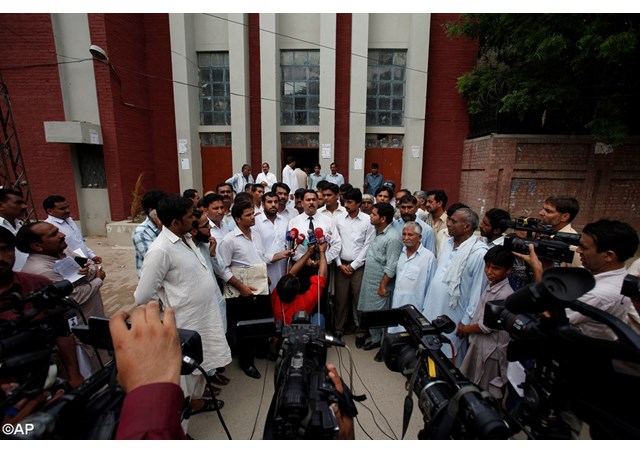 (Vatican Radio) Cecil Chaudhry, executive director of the National Commission for Justice and Peace, the Catholic Church's human rights body in Pakistan, has expressed deep shock at the scale of the child sex-abuse scandal unearthed in the Punjab province, last week.
Dozens and possibly hundreds of children were discovered to have been harassed, molested, raped and filmed by an organized gang over the course of years.
Officials in the Pakistani state of Punjab have called for a federal inquiry into what it called the largest-ever child abuse case in the South Asian country's history involving nearly 300 children.
The government of Punjab state on Sunday ordered a judicial investigation into the case that came to light last week after discovery of about 400 video recordings of more than 280 children being forced to have sex.
"Those involved in the case will be severely punished. They will not be able to escape their fate. The affected families will be provided with justice at any cost," Chief Minister of Punjab Shahbaz Sharif was quoted as saying by Dawn newspaper website. " All those involved deserved no leniency", he added. Meanwhile, Political leaders, rights activists and faith leaders called for swift action.
So far seven people have been reportedly arrested by the police over the case. Most of the victims were under 14, including a six-year-old boy, Rai Babar Saeed, district police chief of Kasur, where the incident happened, told reporters. Videos of these assaults were filmed and thousands of copies are believed to have been sold in Hussain Khanwala village in Kasur district, the police said.
One of the victims said he was injected in the spine with a drug before he was assaulted, they added.
The ringleader, along with seven others, was remanded in police custody. But violence broke out Aug. 6 when an estimated 1,000 people in Hussain Khan Wala village, near Lahore, clashed with police after several suspects were granted bail. Rai Babar Saeed, a senior police officer, told reporters that police arrested eight suspects, including the ringleader, Jaisam Aamir, alias Haji. 
"Some other suspects have got bail from court and police are actively opposing this," he said. "We have so far received seven complaints and recovered dozens of videos showing the molested children," he said. Saeed said that all child abuse incidents happened over a period of seven years starting in 2008.
Prime Minister Nawaz Sharif expressed serious concern about the case and called for authorities to take stern action against all those involved.
Meanwhile, Fr Cecil Paul of Our Lady of Sorrow Church in Punjab's Kasur district strongly condemned the abuse. "We express deep sympathy with the affected families and pray for the quick rehabilitation of their children," Fr Cecil Paul said.
"This is a most horrific and shameful case, in which so many innocent lives have been ruined," he said. "One fails to understand how this was able to go on for years with police failing to act," he said, calling for an impartial and thorough investigation.
Cecil Chaudhry, executive director of the National Commission for Justice and Peace, the Catholic Church's human rights body in Pakistan, also expressed shock at the scale of the scandal.
"There is no word to deplore this horrific crime, but we as a society are to blame," he said. "If the need arises, our aid groups like Caritas will help the families of the victims and provide counseling to traumatized children," he added.
(Source: UCAN)