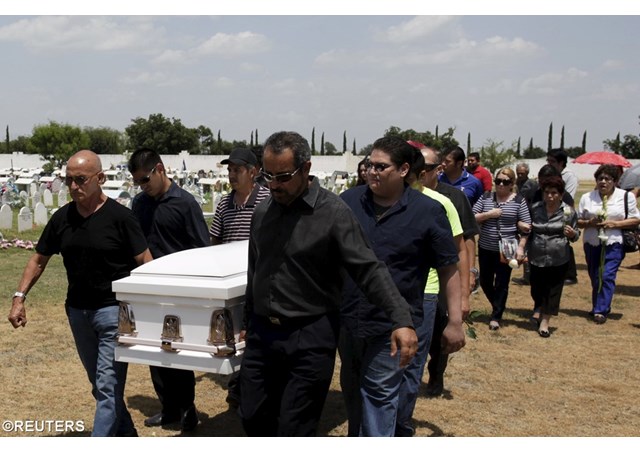 (Vatican Radio) The first funerals of Mexico's truck tragedy which killed 27 pilgrims, have been taking place.  
Pope Francis has sent his condolences after the tragedy on Wednesday in the town of Mazapil.
In a telegram to the Bishop of Zacatecas, Sigifredo Noriega Barceló, Vatican Secretary of State, Cardinal Pietro Parolin, said Pope Francis was "greatly saddened" when he learned the news of the tragic accident, and "offers prayers for the eternal repose of those who died."
43 people remain hospitalized. Ten of these are in serious condition while one is critical. 
Listen to the report by James Blears: 

 
The accident happened on Wednesday in the town of Mazapil in the Northern State of Zacatecas, and already some of its victims have been buried, following harrowing funerals.  
Authorities say that the brakes of a truck carrying building materials failed and it ploughed into a procession of pilgrims. 
They were celebrating the day of their patrón saint Jesús of Nazarath.  
The out of control truck crushed scores of devout people, and hit the Wall of a building ripping and scoring its plaster and brickwork, ending up on its side.
The driver fled the scene of horror and carnage and is still being sought.  Only when he's found, arrested and questioned can the full extent of what's happened... and why become plain. 
The injured are being treated in hospitals in the cities of Saltillo and Concepción de Oro. 
State and Federal Authories are combining to help as well as try to confort the families of the dead and the injured.  
An investigation is underway into what led up to this unprecidented tragedy which will forever overshadow Mazapil's most cherished and devout day of the year.