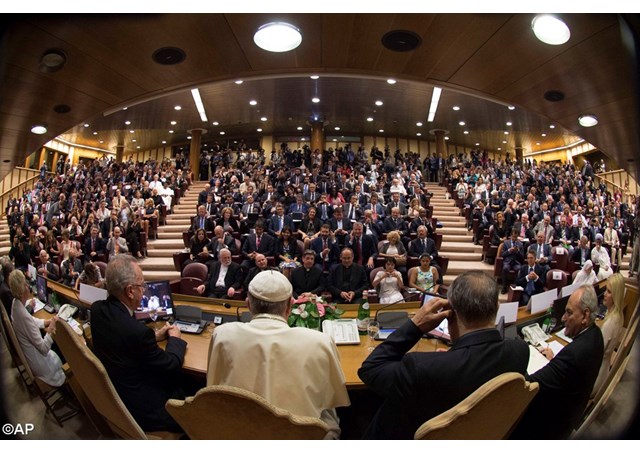 (Vatican Radio)  Pope Francis on Friday confirmed more members and substitutes for the Fourteenth Ordinary General Assembly of the Synod of Bishops, which will take place from October 4-25, 2015, under the theme "The vocation and mission of the family in the Church and in the contemporary world."
For a listing of other members and substitutes confirmed for the Synod on the Family, see our previous posts on 26 March and 16 June.
The following is a list of the members and substitutes appointed by the competent entities and ratified by the Holy Father on 24 July.
AFRICA
Ivory Coast
Member:  Bishop Ignace BESSI DOGBO, of Katiola, President of the National Episcopal Commission for the Apostolate of the Laity
Guinea
Member:  Bishop Juan MATOGO OYANA, C.M.F., of Bata
Sudan
Member:  Archbishop Paulino LUKUDU LORO, M.C.C.J., of Juba
Substitute:  Bishop Michael Didi Adgum MANGORIA, of El Obeid
Zimbabwe
Member:  Bishop Xavier Johnsai MUNYONGANI, of Gweru
AMERICA
Paraguay
Member:  Bishop Miguel Ángel CABELLO ALMADA, of Concepción in Paraguay
Substitute:  Bishop Pierre Laurent JUBINVILLE, C.S.Sp., of San Pedro
ASIA
India
2nd Substitute:  Bishop Lawrence Pius DORAIRAJ, of Dharmapuri
Iran
Member:  Archbishop Ramzi GARMOU, of Teheran of the Chaldeans, Patriarchal Administrator of Ahwaz of the Chaldeans
Substitute:  Titular Archbishop Neshan KARAKÉHÉYAN, of Adana of the Armenians, Patriarchal Administrator of Ispahan, Esfáan of the Armenians
Thailand
Member:  Bishop Silvio Siripong CHARATSRI, of Chanthaburi
Substitute:  Archbishop Louis CHAMNIERN SANTISUKNIRAN, of Thare and Nonseng
East Timor
Member: Bishop Basílio DO NASCIMENTO, of Baucau, President of the Bishop's Conference
Substitute:  Bishop Norberto DO AMARAL, of Maliana
EUROPE
International Bishops' Conference of the Saints Cyril and Methodius
Member:  Bishop Ladislav NEMET, S.V.D., of Zrenjanin in Serbia
Latvia
Member:  Archbishop Zbignevs STANKEVIČS, of Riga
Substitute:  Bishop Jānis BULIS, of Rēzekne-Aglona, President of Bishop's Conference
Scandinavia
Member:  Bishop Teemu SIPPO, S.C.I., of Helsinki in Finland
Substitute:  Bishop Czeslaw KOZON, of Copenhagen in Denmark
OCEANIA
Papua New Guinea and the Solomon Islands
Member:  Bishop Anton BAL, of Kundiawa, "Commission for Family Life"