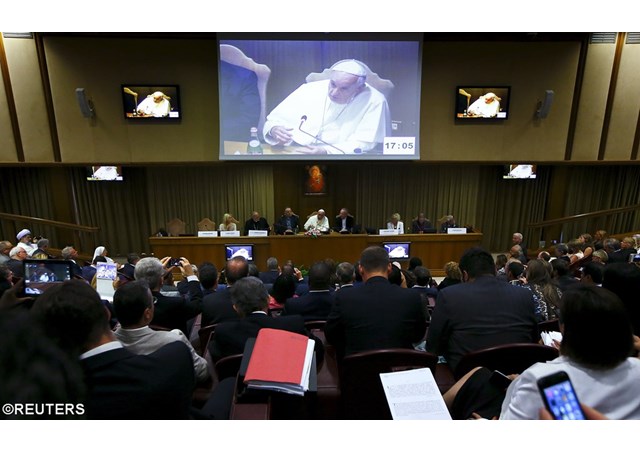 Menschengemachte Klimaerwärmung ist eine wissenschaftliche Tatsache und ihre Kontrolle ist ein moralischer Imperativ für die Menschheit. Das erklären die im Vatikan zu einer Konferenz versammelten Bürgermeister und Lokalpolitiker, die zwei Tage lang Themen um die Fragen von Umwelt und sozialem Ausschluss besprochen hatten. Zum Abschluss unterzeichneten sie eine gemeinsame Erklärung, unter die auch Papst Franziskus am Dienstag seine Unterschrift gesetzt hatte. Neben dem Anerkennen der menschengemachten Ursachen spricht das Dokument von der Wichtigkeit der Städte bei der Lösung der Probleme.
Man habe auf Basis der Enzyklika Papst Franziskus', Laudato Si', Fragen des Klimawandels und der sozialen Exklusion besprochen, heißt es in dem Text. Die überwältigenden wissenschaftlichen Beweise für die menschengemachten Ursachen des Klimawandels seien genauso bedacht worden wie Fragen von Biodiversität. Außerdem habe man über Gerechtigkeit und Wohlstand gesprochen. So sei es deutlich, dass obwohl sie kaum zur Verursachung von Klimawandel beitrügen, die Armen der Welt den Großteil der Folgen zu tragen hätten.
Die Bürgermeister sprechen sich für erneuerbare Energien und die Verlagerung von Staatsausgaben weg von militärischen Zwecken hin zu nachhaltigen Investitionen aus. Der Klimagipfel in Paris zum Ende dieses Jahres sei vielleicht die letzte Möglichkeit, die Erderwärmung unter 2 Grad zu halten, während die augenblickliche Entwicklung eher 4 Grad und damit sehr viel Zerstörung erreichen werde.
Wir dokumentieren den vollständigen englischsprachigen Text der Erklärung.
We the undersigned have assembled at the Pontifical Academies of Sciences and Social Sciences to address two inter-connected dramatic emergencies: human-induced climate change, and social exdusion in the extreme forms of radical poverty, modern slavery and human trafficking, We join together from many cultures and walks of life, reflecting humanity's shared yearning for prosperity, justice and environmental sustainability peace, happiness.
On the basis of the encyclical Laudato si', we have considered the over-whelming scientific evidence regarding human-induced climate change, the loss of biodiversity, and the vulnerability of the poor to economic, social and environmental disasters.
In the face of the emergencies attributable to human-induced climate change, social exclusion, and extreme poverty, we join together to declare the following:
Human-induced climate change is a scientific reality, and its effective control is a moral imperative for humanity.
In this core moral space, cities play a very vital role. All of our cultural traditions uphold the inherent dignity and social responsibility of every individual and the related common good of all humanity. They affirm the beauty, wonder and inherent goodness of the natural world, and appreciate that it is a precious gift entrusted to our common care, making it our moral duty to steward rather than ravage the garden that is our "common home".
In spite of having a minimal role in the disruption of the climate, the poor and excluded face dire threats from human-induced climate change, including the increased frequency of droughts, extreme storms, heat waves, and rising sea levels. Today humanity has the technological instruments, the financial resources and the know-how to reverse climate change while also ending extreme poverty, through the application of sustainable development solutions, including the adoption of low-carbon energy systems supported by information and communications technologies.
The financing of sustainable development, including the effective control of human-induced climate change, should be bolstered through new incentives for the transition towards low-carbon and renewable energy, and through the relentless pursuit of peace, which also will enable a shift of public financing from military spending to urgent investments for sustainable development.
The world should take note that the climate summit in Paris later this year (COP21) may be the last effective opportunity to negotiate arrangements that keep human-induced warming below 2°C, and aim to stay well below 2°C for safety, yet the current trajectory may well reach a devastating 4°C or higher. Political leaders of all UN member States have a special responsibility to agree at COP21 to a bold climate agreement that confines global warming to a limit safe for humanity, while protecting the poor and the vulnerable from ongoing climate change that gravely endangers their lives. The high-income countries should help to finance the costs of climate-change mitigation in low-income countries as the high-income countries have promised to do.
Climate-change mitigation will require a rapid transformation to a world powered by renewable and other low-carbon energy and the sustainable management of ecosystems. These transformations should be carried out in the context of globally agreed Sustainable Development Goals, consistent with ending extreme poverty; ensuring universal access to healthcare, quality education, safe water, and sustainable energy; and cooperating to end human trafficking and all forms of modern slavery.
As mayors we commit ourselves to building, in our cities and urban settlements, the resilience of the poor and those in vulnerable situations and reducing their exposure to climate-related extreme events and other economic, social and environmental shocks and disasters, which foster human trafficking and dangerous forced migration.
At the same time, we commit ourselves to ending abuse, exploitation, trafficking and all forms of modern slavery, which are crimes against humanity, including forced labor and prostitution, organ trafficking, and domestic servitude; and to developing national resettle ment and reintegration programs that avoid the involuntary repatriation of trafficked persons (cf. PASS's revision of UN Sustainable Development Goals, n. 16.2).
We want our cities and urban settlements to become ever more socially inclusive, safe, resilient and sustainable (cf. UN Sustainable Development Goals, n. 11). All sectors and stakeholders must do their part, a pledge that we fully commit ourselves to in our capacities as mayors and individuals.
(rv 22.07.2015 ord)