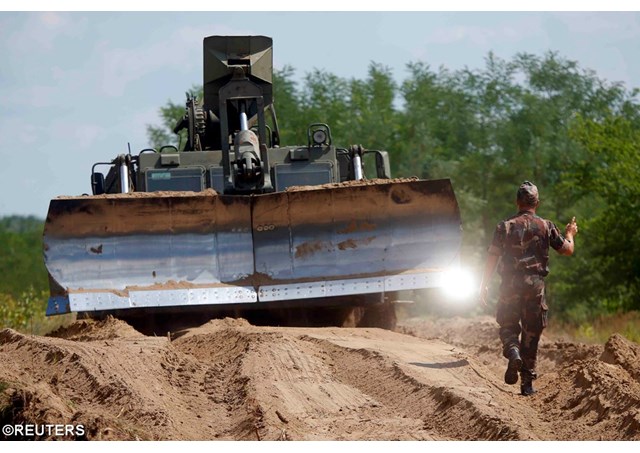 (Vatican Radio)  The United States has urged Hungary to ensure that all migrants fleeing violence and other hardships will be able to have full access to asylum procedures amid protests in Budapest against an anti-migration fence the country is currently building along its 175-kilometer (109 miles) long border with Serbia.
Listen to Stefan Bos' report:
U.S. Assistant Secretary of State for Population, Refugees, and Migration, Anne Richard, has told Vatican Radio that Washington is in her words "encouraging" Serbia and Hungary to continue cooperation on managing the border and the increased number of migrants.
Hungary's right-wing Prime Minister Viktor Orbán says his country can no longer cope with the nearly 80,000 migrants who entered the country year illegally this year alone, though most of them want to leave for the West.
Among the refugees are Christians from countries such as Syria. The United Nations estimates that more than four million people have fled the war-torn nation. 
Vulnerable People
Richard made clear it was crucial that Hungary respects the rights of the most vulnerable people. "These measures should respect human rights and provide protection and assistance to individuals fleeing violence, asylum seekers or other highly vulnerable individuals such as human trafficking victims and children who are without their parents," she said.
"All migrants, regardless of immigration status, deserve humane and dignified treatment and access to asylum procedures. So this is my biggest concern is that people who have legitimate reasons for fleeing should be able to have their cases heard and should be able to be provided asylum should they need it."
She isn't alone: Some thousand people demonstrated in downtown Budapest on Tuesday against the fence. The rally, organised by civic groups, started from the city's biggest church, Saint Stephen's Basilica, under banners such as "Jesus was a migrant, too" and "My best friend is a migrant".
Walking to Parliament
The marchers walked to the neo-gothic Parliament building, where they demolished a 15-meter (50 feet) mock fence symbolizing the one being put up along the border, cutting the wire into pieces.
The UNHCR has also criticized the fence and a government bill board campaign with slogans such as "if you come to Hungary, don't take Hungarians' jobs!"
Government spokesman Zoltán Kovács has defended these policies. "We understand the U.N,'s approach to migration and it is possible to present a couple of successful stories. In these numbers, among these circumstances, it is a completely different story," he said.
The army is now involved in building the anti-migration fence, that Hungary's government wants to complete by Nov. 30. 
US-Mexico fence
Supporters of the fence argue that the U.S. is also building a barrier along its border with Mexico. 
Assistant Secretary Richard wasn't asked about the barrier during Tuesday's conference call, but she made clear the United States had received referrals of nearly 15,000 Syrians from the UNHCR.
She said that since October 1, 2014 America has "resettled 1,110 Syrian refugees." The U.S., she claimed, provided over $4 billion in humanitarian assistance since 2011, "more than any other single donor, to help address these dire humanitarian conditions."
And, "our emphasis is on the most vulnerable, particularly female-headed households, children, survivors of torture, and those with severe medical conditions, people for whom going home will never be an option or who need specialized care that is the type of thing the United States can provide," Richard added.