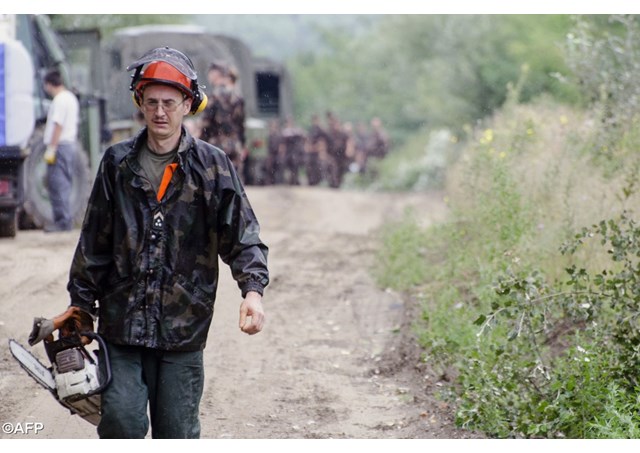 (Vatican Radio) Hungary has begun building a controversial anti-migration fence on the country's southern border with Serbia.
The government says the project is aimed at halting the unprecedented flow of tens of thousands of migrants, but rights activists, the European Union and the United Nations refugees agency have expressed concerns.
Listen to Stefan Bos' report:
Critics say authorities have turned the area in a war zone. On Monday soldiers, backed up by armored vehicles, began  working on the first 150-meter section of fence. They used a bulldozer and other heavy machinery to prepare the ground for construction on the outskirts of the border town Mórahalom. Armed personnel were involved in felling, cutting the underbrush, and road building in the area. 
Eventually the four meter high (13 foot) fence will stretch along Hungary's 175 kilometer (109 miles) long border with Serbia. The $23 million project, which was approved by Parliament, has angered Serbia's prime minister Aleksandar Vučić
"I believe that 1961 was the year when the last wall was built in Europe," he told reporters referring to the Berlin Wall. "It is far in the past now and, although I understand the problems and reasons that [Prime Minister] Orbán and his country are facing, I hope that he will not do this."
Fence needed?
Hungary's center-right government says the project is needed as nearly 80,000 migrants have entered the country illegally this year alone. But those trying to reach Europe include refugees from war-torn areas, including Nuria from Afghanistan. 
"In Afghanistan there is the Taliban [militant group]...There is a time bomb every day. We are so sad about that. That's why we left Afghanistan," he said. 
Besides the fence, Hungary's government is also discouraging him and other migrants from staying in Hungary with billboards that include slogans such as "If you come to Hungary, you cannot take Hungarians' jobs." 
It has also sent out questionnaires to voters linking migrants to terrorism and criticizing the European Union's migration policies.  
Rights activists, the United Nations High Commissioner for Refugees (UNHCR) and the EU have condemned both the fence and the migration policies.
Understanding approach
But government spokesman Zoltán Kovács claims that Hungary has no other option as it is part of the visa-free Schengen zone. 
"We understand the U.N,'s approach to migration and it is possible to present a couple of successful stories. In these numbers, among these circumstances, it is a completely different story," he said. 
"These are people arriving from different civilizations trying to enter Europe illegally causing lots of problems, lots of unsolved issues that have been with Western Europe for over the last decades. We definitely would like to avoid this happening in Hungary," he explained in a separate interview. 
Many migrants are trying to reach Hungary through the Balkans route, as this is an alternative to the dangerous boat trips towards Greece and Italy that have killed many.