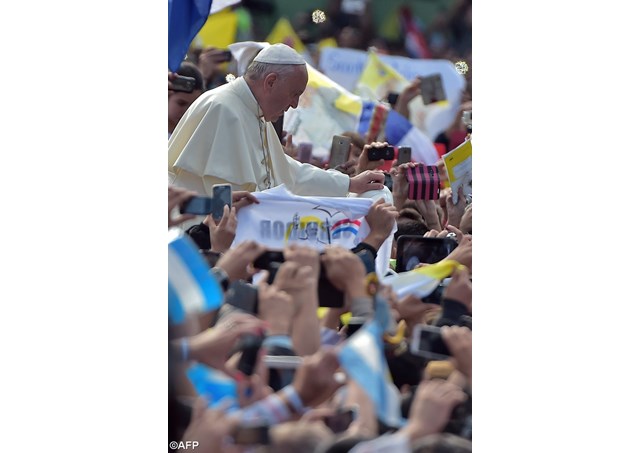 (Vatican Radio) Pope Francis is currently in Paraguay's capital Asunciòn on the last leg of his three country Apostolic journey to Latin America  which has also taken him to  Ecuador and Bolivia. Linda Bordoni is currently in Asunciòn and tells us how the Pope's fellow countrymen are far from missing the opportunity to get close to him.
Listen to Linda Bordoni's report: 
What has been happening on the border between Paraguay and Argentina is being described as "historic".
Immigration officials in both countries say some 1.5 million Argentinians are giving life to what is estimated to be the biggest border crossing for any single event in the region's history.
The reason for the exodus of course, is Pope Francis. His fellow countrymen want to get close to him and show him how much they love and appreciate him.
That's why there are so many pale blue and white flags mingled in with the red, white and blue Paraguayan colours and of course the Vatican's yellow and white.
Many Argentinians made their presence felt on Saturday morning at the Marian Shrine of Caacupé where Pope Francis must have felt particularly "at home" also because of the personal connection he has with the Virgin of Caacupé which is rooted in his pastoral work in Buenos Aires.
Yes, because when he was archbishop of Buenos Aires, Cardinal Bergoglio often visited the "Villa 21" slum where many Paraguayan immigrants live, joining them in their religious processions and celebrating baptisms at their Church: Our Lady of Caacupé.
What's more, making that same trip across the border is also a large contingent of Paraguayans: about one fifth of the roughly one million immigrants living in Argentina today.
That's why Argentina has opened a number of new border control offices and immigration checkpoints en route to Paraguay, a poor country that needs the Pope's blessing and is receiving him with open arms.
In Asuncion with Pope Francis, I'm Linda Bordoni