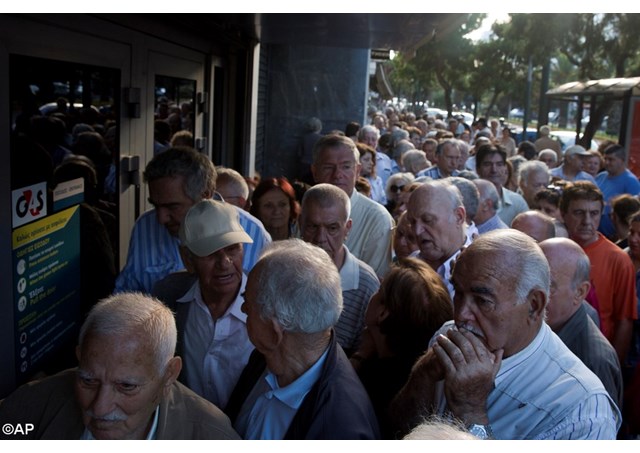 (Vatican Radio)  The Greek government scrambled for a last-second accommodation with its creditors until late Tuesday night, but missed a deadline to repay 1.6 billion euros to the International Monetary Fund.
Listen to the report by John Carr:
Prime Minister Alexis Tsipras proposed a two-year contract with the European Stability Mechanism to borrow just over 29 billion euros to be used to pay that backed-up IMF debt whose deadline passed at midnight.
The eurozone finance ministers conferred last night, and are set to discuss the Greek proposal later Wednesday afternoon.
Tispras has been rattled by the strength of Greek public feeling after his Syriza government closed the banks for eight days and limited ATM withdrawals to 60 euros a day per person in the face of a devastating bank run last weekend.
Also pushing Tsipras to compromise was a large rally in central Athens Tuesday night in favour of Greece staying in the eurozone.  In pouring rain, thousands of demonstrators shouted their opposition to Tsipras, blaming him for trying to steer Greece out of Europe.
This week's bank squeeze has seriously dented Tsipras's popularity five days ahead of a referendum which he called on the creditors' conditions to resume bailout aid.
Tsipras has urged Greeks to vote no to those conditions, but now, with a deal hopefully imminent he could be under pressure to change his tune.