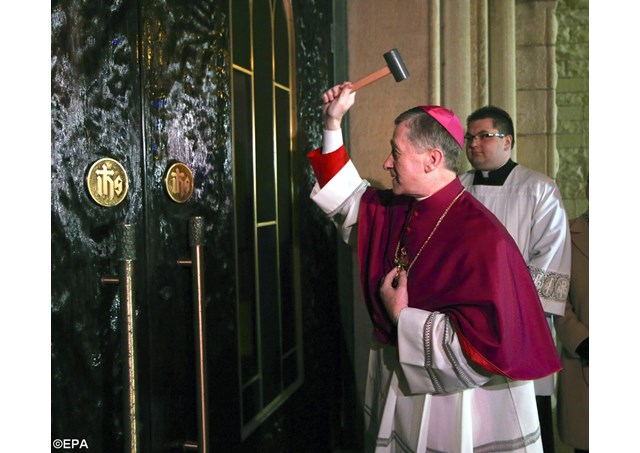 (Vatican Radio) Among the metropolitan archbishops receiving the Pallium on Monday during Mass to mark the Solemnity of Sts. Peter and Paul in the Vatican, was the new Archbishop of Chicago, Blase J. Cupich. The grandson of Croatian immigrants to the United States and the son of parents with Croatian heritage, Archbishop Cupich continues to be very proud of his Croatian roots and to nurture the cultural legacy of his forebears, especially as regards the Catholic faith that permeates Croatian identity. Fr. Hrvoje Juko of Vatican Radio's Croatian Service interviewed Archbishop Cupich following the Pallium Mass in St. Peter's. 
During the course of their broad-ranging conversation, Archbishop Cupich discussed issues from the laws governing the sale of firearms, to inequality in society, to immigration. Archbishop Cupich also discussed the recent decision of the Supreme Court of the United States, making same-sex marriage legal in all 50 states and every US territory. "I think that it's important to realize that we're talking about civil marriage here, and we're talking about the fact that the Supreme Court considered that there is a constitutional right for people of the same sex to be married," he said.
The new Archbishop of Chicago went on to say, "That has no impact at all on our understanding of marriage, being not only a union between a man and a woman, but also a symbol of Christ and his Church." Asked about the way in which the decision might affect religious liberty in the United States, Archbishop Cupich said, "I think there's always a need for vigilance whenever there's a change in society as massive as this one is."
 Please find integral audio and a full transcript of the interview, courtesy of the Croatian Service, below
*********************************************
Fr. Hrvoje Juko (H): Your Excellency, archbishop Cupich, welcome to our program, and thank You for Your time.
Archbishop Blase Cupich: Thank You, it's a pleasure to be with You, especially knowing that this is going to be broadcast in Croatia. I have great affection for the homeland of my grandparents.
H: The Pope, in his homily today [June the 29th], called you – the archbishops who received the palia – to a life of prayer, faith, and witness. Those are not easy things to achieve. What do they mean to You personally? How would You respond to the Pope's calling today to a life of prayer, faith, and witness?
C: I heard the call to prayer within the context of how prayer takes us out of our isolation, and prayer gives us a sense that we're not alone. That's very important for a leader, because a leader needs to understand that they don't make all the decisions themselves, but also that Christ is the one who is really leading the Church. It's there then that one can deepen their own faith, because faith is a recognition that things are happening that are unseen, outside of our vision. And that sustains us. That's very important to keep in mind, and it's then that we can give testimony. It's not testimony of our own talents or abilities. It's not testimony of things that we accomplish, but rather it's testimony to how we understand that we're not alone and that Christ is with us and Christ is doing the work. This pope is particularly keen on trying to get people to understand that Christ is alive, the Risen Lord is in our midst, and our job is to recognize where he is working.
H: What are some of the challenges You are facing in the archdiocese of Chicago? There's a high level of violent crime, there's also a significant Latino community, is there not? What are some of the issues You'll be facing when You come back home?
C: We have the challenges of any large metropolitan area. It's true, there's a good deal of crime there, and that's because of the amount of guns that are available. That's very unfortunate. We have some very liberal gun laws that allow guns to be in the hands of people who are irresponsible. That's a key challenge that we face in society. We also have deep pockets of inequality. We try to overcome that in the Church by providing, through our schools, a solid education for people who live in the poorer communities. The Archdiocese itself, with the parishes, spends about 35 million dollars a year for our schools. We don't get any government subsistence at all. So we have a real commitment to helping people get out of poverty through a sold education. But we also, as You recognized, have a situation where there are people who are living in the shadows, because they don't have proper documents. And they are immigrants who have come to the United States in order to secure a better future. We need comprehensive immigration reform, and I have tried to speak very clearly about that since my first day in the Archdiocese. That is a tragedy. We are an immigrant nation. My grandparents are immigrants. We're immigrants. Sometimes we forget, we have amnesia about our heritage. And I want to remind people, especially leaders, people in Congress, that if we don't deal with this correctly, we're going to lose something of our soul and our country.
H: The Pope is going to visit the United States in a couple of months. What are some of the expectations of the faithful with regard to the Holy Father's visit?
C:  They're looking forward to him. He's a man who has captured the imagination of people who are Catholic and non-Catholic, young and old… We see the Square [of St. Peter] is full, on Sunday for instance,  [on] the Angelus, today in the church [Basilica of St. Peter] as well, people feel very close to him. He's just one of the main, major leaders. I do think it's important to recognize that the Holy Father is coming to the United States through Cuba, [from] where we have immigrants. He's entering from a Hispanic culture. That should say something to us about the importance, I think, of the emphasis that the Holy Father wants to give to the immigrants who are suffering in the shadows.
H: You come from Croatian roots. Your grandparents were immigrants. There's also a hint of that in Your coat of arms: You have a little Croatian motif – the red and white chessboard. Has Your Croatian heritage impacted Your life in any significant way? Has it perhaps shaped Your stance and Your solidarity with the plight of the immigrants?
C: I think it's shaped my life and my faith. My grandparents, when they came, started within a little enclave of Croatians living in a certain part of Omaha to begin a parish. And that parish, by the way, was named Saints Peter and Paul, so this day is very special to me. And I was also installed on the feast of the Basilicas of Peter and Paul. So there's been a shaping of my faith. Our whole life as children, in our family, revolved around being part of the Church. We would go up to our parish church on Wednesday evenings, and learn folk dances, Croatian Kolo dances, and learn songs. So that is a part of who we were. It gave me, not necessarily a sensitivity only to people who are poor, but the importance of how we're all one, and we need to work together as a community. That's probably the greatest contribution that it gave: that we live in solidarity with one another.
H: You've been to Croatia once, right? And you've helped secure funding for our Catholic University. Do You have any plans on coming back again?
C: I've been to Croatia a number of times already, and I'm glad to be a part of that. Whenever I go back, it's an opportunity for me personally, as I have done before, to go to the baptismal churches of my grandparents. That's very touching for me: to see the actual baptismal record where they entered the Church. And I've connected with family members as well in the various places that my grandparents have come from.
H: In Croatia, we've recently had a referendum on marriage, and it was put in the Constitution that marriage is a union of one man and one woman. The situation has been the reverse in the United States, where the Supreme Court recently legalized same-sex marriage in all of the states of the US. Archbishop Kurtz has called this decision "a tragic error that harms the common good of the most vulnerable among us". What are Your comments on the decision?
C: I think that it's important to realize that we're talking about civil marriage here, and we're talking about the fact that the Supreme Court considered that there is a constitutional right for people of the same sex to be married. That has no impact at all on our understanding of marriage, being not only a union between a man and a woman, but also a symbol of Christ and his Church. So I think it's important to recognize that the civil society for a long time has not had the same understanding of marriage that we have in the Church. Easy divorce, for instance, takes away from the commitment that we ask people to make in marriage as a lifelong commitment of fidelity. This is a significant movement, however. But it's not the first that we have seen a difference between a civil marriage and church marriage.
H:  Do You think it will complicate the issue of religious freedom. It was already a bit of a complicated situation with the new healthcare system. Will this impact it or complicate it even further?
C: I hope not. And I think we have to be very vigilant about that. We have to make sure that we really have the ability to practice our faith and not have interference by the government. We are given that assurance in the Constitution. People sometimes forget that religious freedom in our Constitution is not so much about a burden for us to defend, but it's a burden that the government cannot intrude on. It is about the governments interference. The government cannot intrude. Happily, our Supreme Court has made decisions that have allowed religious freedom to be protected. They've been very clear about that. For instance, that our hiring practices for our ministerial position have been upheld as our right to make those decisions, and the government can't come in and tell us which people to hire or who we can't hire, and who we should hire. My hope would be that all of the work we've done so far to protect religious freedom will continue. But yes, I think there's always a need for vigilance whenever there's a change in society as massive as this one is.
H: And finally, You have received Your palium in the Year of consecrated life and at the threshold of the Year of mercy. Do You find that significant? Do You have any plans with that regard?
C: In fact, we began in the archdiocese of Chicago by having a closing of one of our doors in anticipation of opening it for the Holy year on December the 8th. We're also putting together some other programs to coincide with the calendar that's already been released by the Holy See. I see that people are very energetic and enthusiastic about the Holy year of mercy. And I for one, at least, welcome to receive more mercy in my life.
H: Your Excellency, thank You very much for Your time.
C: Thank You. I would once again just like to greet all of the people in Croatia listening to this. I'm very proud to be a Croatian – not only by heritage, but also a citizen of Croatia. Thank You.