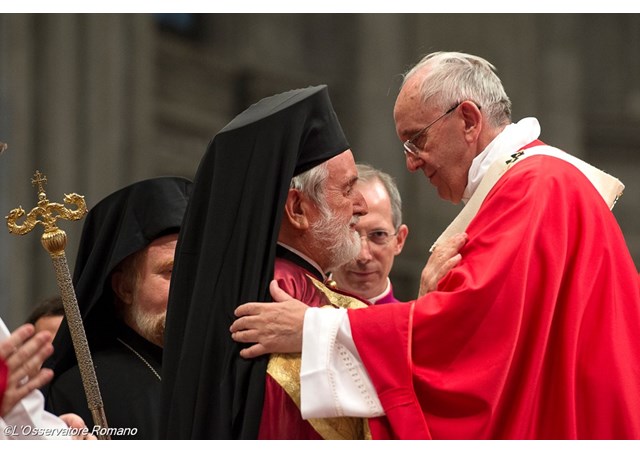 (Vatican Radio) On the feast day of Saints Peter and Paul, Pope Francis urged 46 new metropolitan archbishops to hear the first apostles' call to prayer, to faith and to witness. The Pope's words came during his homily at Mass in St Peter's Basilica which included several significant ecumenical initiatives, as Philippa Hitchen reports:
Listen: 
Every year on June 29th, solemnity of Saints Peter and Paul, a high level delegation from the Ecumenical Patriarchate in Istanbul travels to the Vatican to celebrate this great feast of the patron saints of the Church in Rome. Just as a Vatican delegation travels to Istanbul each November 30th to celebrate the feastday of St Andrew with the Orthodox Church of the East.
Pope Francis had special greetings to the Orthodox delegation, led by Metropolitan John Zizioulas, who was also present in the Vatican just 10 days ago for the presentation of the papal encyclical on the environment, 'Laudato Si''.
Meanwhile, providing inspirational music for the Mass on Monday were choristers of the Anglican choir of New College, Oxford, who joined forces with the regular Sistine Chapel Choir to underline the ecumenical nature of this important feast day.
In his homily Pope Francis spoke of the courage of the Apostles and of the first Christian community, persecuted by the rulers of their day, just as believers continue to be the victims of "atrocious, inhuman and incomprehensible persecutions" in many parts of the world today.
The Pope focused his words on three ways in which the new metropolitan archbishops are called to model their lives on those first apostles. Firstly, by being men of prayer, just as the first Christian community was a Church at prayer, supported, sustained and always "moving forward". Prayer, the Pope said, is the encounter with God, who never lets us down or leaves us alone.
Secondly, Pope Francis said, the new archbishops must respond to the call to faith, believing that despite all the difficulties "the Church remains alive and fruitful". And finally he urged the archbishops to be men of witness, following the examples of so many other Christian witnesses throughout the history of the Church. "There is no witness," he reminded them, "without a coherent lifestyle!"
Whereas in past years, the popes have placed the symbolic pallium around the neck of each new metropolitan, this year Pope Francis simply blessed the bands of white wool, embroidered with black, silk crosses. Each pallium will later be presented to the archbishops by the nuncio in their own country, in a ceremony underlining the importance of the local Churches and the synodality of all bishops, under the guidance of the successor of Saint Peter.