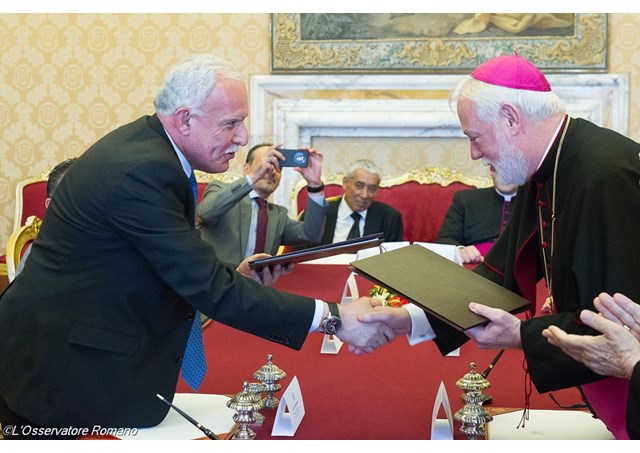 (Vatican Radio) The Holy See and the State of Palestine signed a Comprehensive Agreement on Friday in the Vatican. Some 15 years in the making, the Comprehensive Agreement is the culmination of work that began on the basis of the Basic Agreement signed by the parties on January 15th, 2000.
The Comprehensive Agreement deals with essential aspects of the life and activity of the Catholic Church in Palestine, including the freedom of the Church to operate and of Christians to practice their faith and participate fully in society, continuing their long tradition of active and essential contribution to the common good.
Click below to hear our report
In remarks on the occasion, the Holy See's Secretary for Relations with States, Archbishop Paul Gallagher,  said, "In the complex reality of the Middle East, where in some countries Christians have even suffered persecution, this Agreement offers a good example of dialogue and cooperation, and I earnestly hope that this may serve as a model for other Arab and Muslim majority countries." Archbishop Gallagher went on to emphasize the importance of the chapter in the Agreement dedicated to freedom of religion and freedom of conscience. "I once again reaffirm the Holy See's particular solicitude for the Middle East and for the Holy Land, and its joy at the Agreement that has been reached," he said.
The Minister of Foreign Affairs for the State of Palestine, Riad Malki, represented his country at the signing. "This agreement," said Malki, "consolidates and improves the current state of affairs, in which the Roman Catholic Church enjoys rights, privileges, immunities, and free access. It upholds the Church's standing as an important contributor to the lives of many Palestinians."
Archbishop Gallagher and Minister Malki each expressed the hope that the Comprehensive Agreement be implemented without delay.