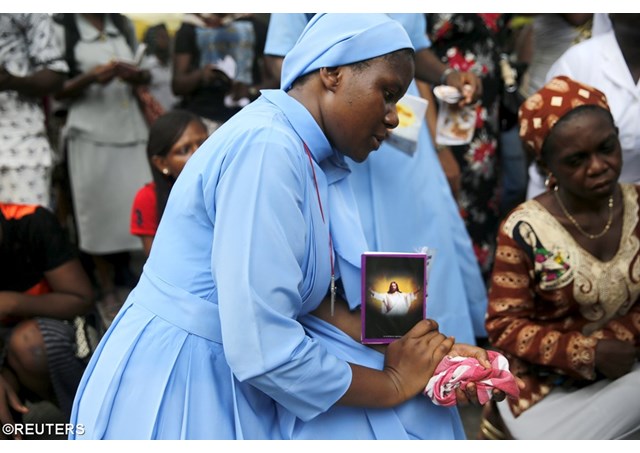 Exemplary Christ-like life has been described as the hallmark of Religious life.  The assertion was recently made by Fr. Ray Olusesan Aina,  a Missionary Society of St. Paul priest. Fr. Olusesan Aina said this when he presented a paper at the Gaudium Et Spes institute, Abuja in Nigeria. The paper was presented as part of activities to mark the Year of Consecrated Life in the Archdiocese of Abuja. Fr. Olusesan Aina holds that religious life should continuously radiate joy and beauty if it is to bring people closer to God.
In his paper titled, Witnesses of Joy Keeping Watch: An Exposition of Witnesses of Joy, Fr. Aina noted that the declaration of the Year of Consecrated Life by the Holy Father, Pope Francis, is a clear indication of the Pope's response to the signs of times. It is also in answer to the challenges of the modern world and the changing realities of the role of the religious person in the life of the Church.
Fr. Aina noted, "The Pope expects us to confront ourselves this year especially with a reality that is part of us: Radiance and Gloom in the Consecrated Life." He continued, "All of us had an original vision (when we became religious persons and that is) – radiance of consecrated life brought us so much joy. We had passion and purpose. Over the years, however, some or a lot of us live our consecrated life with gloom," Fr. Aina said.
Fr. Aina went on to outline the different types of people in consecrated life.  In his words,"… some of us have passion without purpose: we are restless, and overactive; workaholics. Some of us have purpose without passion: we are cold, just doing our bit according to the rules, and nothing more; we are mediocre. Some of us are without passion, without purpose: we find no joy in this thing called religious life but for a lot of reasons, we still remain in the life. We are lukewarm; we are full of sloth (one of the seven deadly sins)."
The Missionary Society of St. Paul priest continued, "The second and third groups have one thing in common – gloom. Pope Francis exhorts, 'None of us should be dour, discontented and dissatisfied, for a gloomy disciple is a disciple of gloom.' A gloomy disciple (lacking in original passion that attracted one to religious life) is a virus that spreads its contagious gloom wherever she/he is. Such persons spread nothing but depression, anxiety, hopelessness, apathy, cynicism and sarcasm. Isn't it the reason some of us are difficult to post around because many communities don't want us because we are disciples of gloom?" Fr. Aina asked.
"The power of our consecrated life does not depend on the methods of reaching out to the world or our technical competence or intellectual pedigree," Fr. Aina added. He insisted that where disciples of gloom are to be found vocations to religious life equally reduced. "On the contrary, what draws people is the eloquence of your lives, lives which radiate the joy and beauty of living the Gospel and following Christ to the full," Fr. Aina added.
(Catholic News Service of Nigeria)
e-mail: engafrica@vatiradio.va