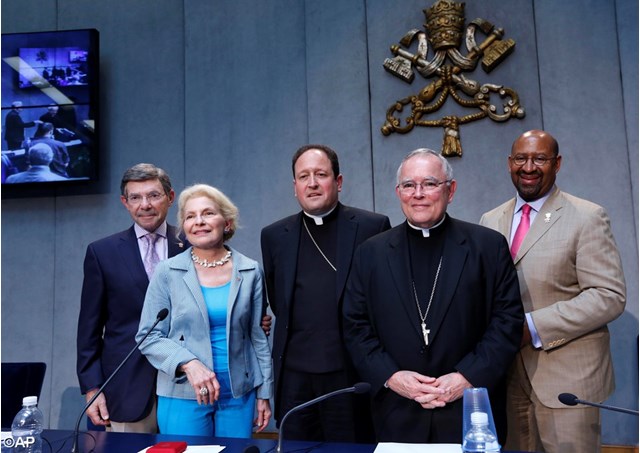 (Vatican Radio) The Press Office of the Holy See was the scene on Thursday for a status report on the preparations for the eighth World Meeting of Families, to be held in the US city of Philadelphia from September  22-27, 2015, culminating with the presence of Pope Francis. 
During the course of the conference, journalists learned that week of festivities will include ecumenical, interreligious, and multicultural celebrations of the family involving an expected 15 thousand participants from more than a dozen countries around the globe. For the Holy Father's public engagements on September 26th and 27th, between 1 and 2 million people are expected to take part.
Among the special initiatives associated with the Meeting and the visit of the Holy Father is a planned gift of 1 million copies of a special edition of the Gospel according to St. Luke: at the end of the Mass on Sunday, 27 September, Pope Francis will give the Gospel of Luke, the Good News of God's  mercy, which is Jesus, to families from major cities on 5 continents: Kinshasa (Africa), Havana  (America), Hanoi (Asia), Sydney (Australia) and Marseille (Europe). The gesture is to be a symbolic announcement of the sending of 200 thousand copies to each of the five cities, that the Gospel of Mercy should be announced especially in poorer and peripheral neighborhoods. 
In an exclusive interview with Vatican Radio following the press conference, the Archbishop of Philadelphia, Charles J. Chaput, OFM Cap. spoke of the irreplacable contribution the Church has to make to the ongoing discussion of the place of the family in society. "The only unique thing that the Church brings to a discussion of family life is the teaching of Jesus Christ," he said, "and so it seems to me that the most important contribution we make, is to make that teaching very clear, announcing it in a joyful and positive way."
Click below to hear Archbishop Chaput's extended conversation with Chris Altieri