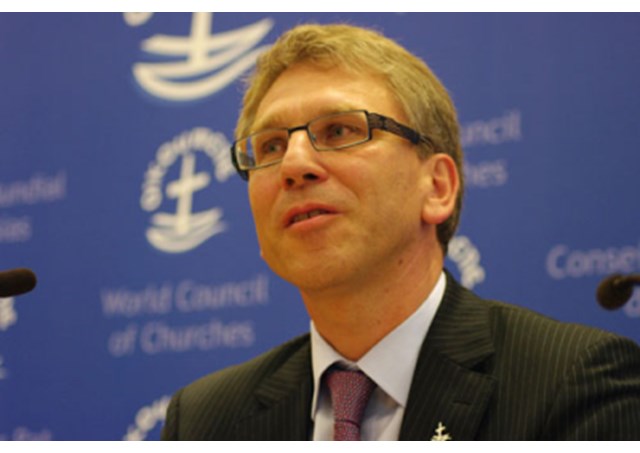 (Vatican Radio) The General Secretary of the World Council of Churches says Christians must grasp the "unique ecumenical momentum" created by Pope Francis' new encyclical on the environment. He also believes it's vital to respond in a more practical and pastoral way to migrants in Europe who are radically changing our "reflection about who is in communion with whom".
Rev Dr Olav Fykse Tveit was in Rome on Tuesday to attend celebrations marking the 50th anniversary of the Joint Working Group of the Catholic Church and the World Council of Churches. Set up just before the end of the Second Vatican Council, the Group is holding a plenary session in Rome this week to begin its tenth round of ecumenical conversations.
In a message to Rev Fykse Tveit to mark the occasion, Pope Francis said we should be encouraged by the collaboration the Group has promoted, "not only in ecumenical issues, but also in the areas of interreligious dialogue, peace and social justice, and works of charity and humanitarian aid". But he stressed that despite the many ecumenical achievements, "Christian mission and witness still suffer due to our divisions".
Philippa Hitchen sat down with  Rev Fykse Tveit to discuss some of those divisions which continue to impede the shared witness of the Christian Churches today…
Listen.
The WCC leader says it's important to celebrate not just the "significant change" brought by the Second Vatican Council but also the normalization of relationships that has taken place since then, "having joint projects, relating to many issues together"….
Regarding the disagreements that still divide the Churches, Rev Fykse Tveit points to ecclesiological issues that "have been worked on in a very serious way" to forge "a much more common understanding of Church, ordained ministry and the sacraments". But he says it's still a significant scandal when we can't celebrate the Eucharist together, "not even in families in mixed marriages (and) that is  a wound which is really hurting"…
The other, more practical questions he points to are concerned with justice issues – such as in Latin America, in past years, concerning Church relations with the State or economic injustices: "With Pope Francis", he says, "now we see that he is the spokesperson for what so many theologians and Protestant Churches also raised for many years, so we see things changing". But there are also new discussions about "family life, human sexuality, abortion" and these are areas where "we need to continue to work, as I think the Roman Catholic Church is showing that these are issues where there is a need to work also within the Church".
Commenting on the new papal encyclical, Rev Fykse Tveit says it "totally corresponds to what has been the WCC work for the last 30 years". There is a great consensus, he says, not just about climate change but also how this is related to economic injustice, poverty, conflicts….
The WCC leaders says this is "a momentum  we should not let pass, also as an ecumenical moment…..and to show that we as Churches have something to contribute together from our faith perspective but also from the bonds of unity we have created"….
Finally he says we must react to Pope Francis' words about reality being more important than ideas: if you look at our European Churches with so many migrants, he says, "so many don't pay much attention whether their background was Catholic, or Anglican, or Lutheran, or Methodist – they go to the Church in which they find a place, so how does it make sense to say no, you can't participate?" We must follow the signals that Pope Francis has given, he concludes, "to look at this as a pastoral issue (and) not only as a canonical issue. The alternative is that a lot of people in the next generation will not belong anywhere, or they might just create their own new Churches, which does not serve the unity of the Church".