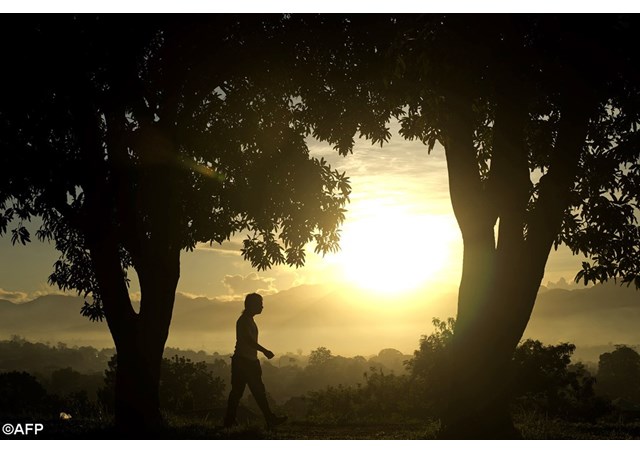 (Vatican Radio) Laudato Si', the eagerly-awaited encyclical from Pope Francis will be made public at a press conference on Thursday in the Vatican's Synod Hall. The press conference will include presentations from Church leaders who've been closely involved in the preparation of the document, in particular Cardinal Peter Turkson, head of the Pontifical Justice and Peace Council and Orthodox Metropolitan John Zizioulas, representing the Ecumenical Patriarch Bartholomew who has been a pioneer of environmental protection. Lay experts who'll be sharing insights are Professor John Schellnhuber, head of the Potsdam Institute for Climate Impact Research and Dr Carolyn Woo, president of the U.S based Catholic Relief Services.
During the preparation of this document many other theologians and environmental specialists have also been consulted for their expertise, including Irish Columban missionary and author, Fr Sean McDonagh. He began his pioneering working on environmental justice in the 1970s while working with the indigenous T'boli people on the island of Mindanao in the Philippines and since then he's attended most of the UN meetings on climate change and protecting biodiversity.
Philippa Hitchen sat down with Fr Sean to discuss the importance of this papal document and the impact it can have on the political and business world…
Listen: 
Fr Sean says the title of the encyclical 'Laudato Si': on the care of our common home' makes clear the earth in not just home for human kind but for at least six million other species that we depend on for survival.....he hopes it can give a boost for people working to protect life. "We in the Catholic Church call ourselves pro-life" which means promoting policies and programmes that protect this habitat for other species so that the future of humanity and all species is protected...
He notes that 2015 is "a very significant year for climate change" because of the UN conference coming up in Paris in December where legally binding choices need to be made. He says there is an urgent need for mitigation, for a lot of money for countries already affected by climate change, for policies that cut down on carbon dioxide in the atmosphere and for investment in new technologies that can help bring an end to the fossil fuel era. Although an encyclical is not a policy document, he says "I hope the document will help us on this way"
World leaders have been studying sustainability for many decades, Fr Sean notes, because the one thing we know is that we cannot keep expanding into a finite space. There is still much hard work that needs to be done, he says, to see where are the boundaries of our technologies that we cannot breach without causing negative damage to our planet.....