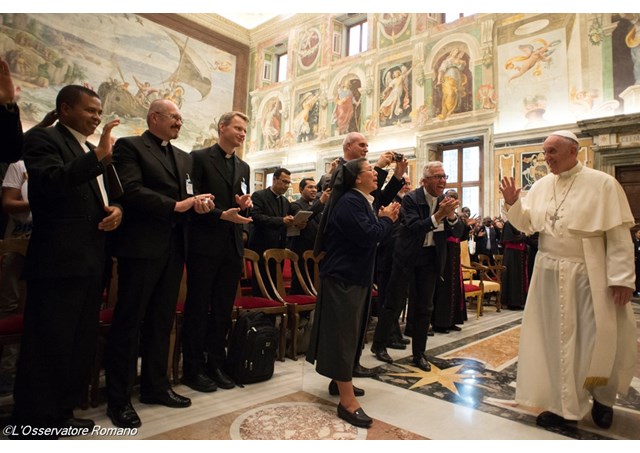 (Vatican Radio)  Pope Francis said on Friday (June 5th) that Jesus Christ must be the source of all Missionary activity and urged members of the Pontifical Missionary Societies to avoid the temptation of becoming an NGO with excessive functionalism. 
In his address, the Pope said "missionary activity is the greatest challenge for the Church" because humanity has such a great need of the Gospel: a source of joy, hope and peace. He urged the members of the Pontifical Missionary Societies who have been attending their General Assembly to encourage a more fervent, joyful, generous and bold evangelizing mission. This renewed evangelization, he continued, must be directed in particular towards the poor, the marginalized and those with no voice.
Pope Francis said the Pontifical Missionary Societies' task is to announce the gospel message of love, brotherhood and justice. This, he explained, is done with the help of "prayer, evangelical courage and by bearing witness to the beatitudes." 
He urged his listeners not to fall into the temptation of allowing their Societies to become an NGO or an office where they distribute financial assistance. "Money can help," he said, but it can "also prove the ruin of a Mission." In the same way, the Pope continued, "functionalism can also ruin it" if this philosophy is put at the centre or becomes the most important element. He stressed the importance of ensuring that the figure of Jesus Christ is not removed from their Mission by putting in place too many action plans and programmes. Pope Francis warned that "a Church that is reduced to pursuing efficiency of the party apparatus at all costs is already dead." 
Only with the energy of the Holy Spirit, he concluded, can the Church find the impetus to reach out from itself and evangelize all people.