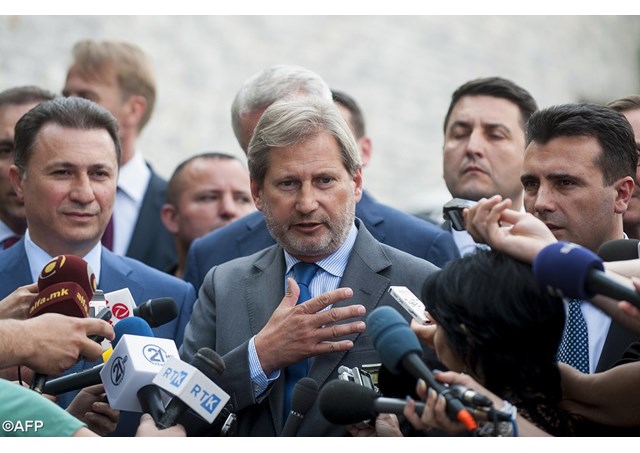 (Vatican Radio) Politicians in the former Yugoslav republic of Macedonia have agreed on early elections by April next year as part of a European Union-brokered plan to overcome months of unrest that threatened to plunge the Balkan nation into a wider conflict. 
Listen to Stefan Bos' report:
EU Enlargement Commissioner Johannes Hahn made the announcement after talks with the government and opposition in Skopje, the capital. 
The crisis was sparked by recordings that appear to show ministers plotting vote rigging and the cover-up of a murder. At the same time the leader of the main opposition Social Democrats accused Prime Minister Nikola Gruevski of wire-tapping some 20,000 people, including religious leaders, journalists and opposition figures. 
Soon mass anti-government protests erupted and, adding to tensions, eight police officers and 14 ethnic Albanian fighters were killed in separate clashes in May. 
PRIME MINISTER CONTROVERSY
Yet, despite the scandals and violence, Gruevski refused to resign saying the opposition wanted to orchestrate a coup in cooperation with unnamed spy agencies. 
It raised international concerns that the country may face more instability and ethnic clashes. Macedonia narrowly avoided civil war in 2001 amid fighting between government forces and ethnic Albanians, who comprise roughly a quarter of the country's 2.1 million population. 
However Commissioner Hahn said politicians agreed to end months of unrest with an early election by April, 2016. 
He added that U.S Ambassador Jess Baily and the Head of the EU delegation in Macedonia, Aivo Orav, had played a crucial role in the talks.
INTERNATIONAL SUPPORT  
[It's about] responsibility and obligation," Hahn said. 
"That's why I am grateful that both the ambassador of the United States together with the ambassador of the European Union have supported to get an agreement today." 
The EU says details of the plan will be finalized next week.
Hahn hopes politicians will use the current crisis to "modernize the country" which had faced a troubled history.