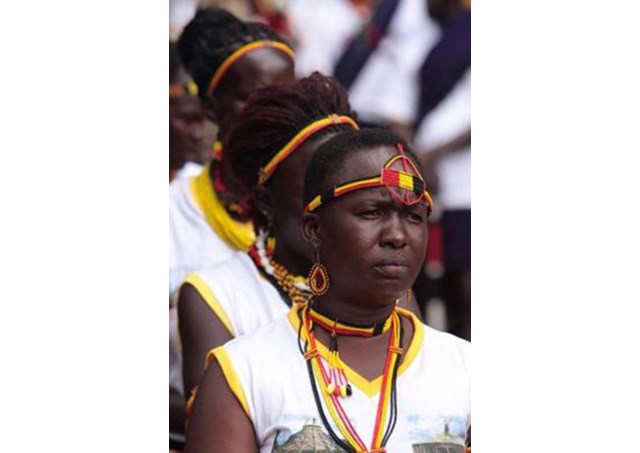 Today in Uganda, literally thousands of pilgrims have gathered at the Uganda Martyrs' Shrine in Namugongo to commemorate this year's Martyrs Day.
Many pilgrims from 19 of Uganda's Catholic dioceses and from various African countries arrived at Namugongo on foot. More remarkable were the 500 pilgrims from Kenya, who walked 700 kilometres for over a month to reach Namugongo. Their chaplain, Father Justice Oyugi Ogonda of the Catholic Diocese of Eldoret, in Kenya told reporters in Uganda's capital, Kampala, that the group had had an exciting spiritual journey and thanked Ugandan people for their warm welcome along the way.
The colourful Uganda Martyrs' liturgy of today is being presided over by Bishop Joseph Franzelli of Uganda's Lira Diocese. Uganda's dioceses annually take turns to organise the day's liturgy. This year, Lira as the principal diocese will lead the processions, choir and liturgical dances.
The theme of this year's celebrations is, "Faithful to the end."
Uganda's Republican President, Yoweri Museveni was also expected to attend the celebrations.
The 3 June Uganda Martyrs' Day annually commemorates the martyrdom of 45, mostly young, Ugandan men who converted to Christianity between the years 1885 and 1887.  The conversions so outraged the then King of Buganda, Kabaka Mwanga II that he ordered the converts to be burnt to death.   Although Joseph Mukasa was the first to be executed on 15 November 1885, there followed between 25 May and 3 June 1886 a wider series of executions.
The 22 Catholic Martyrs were canonised on 18 October 1964 by Blessed Pope Paul VI in Saint Peter's Basilica in Rome. Bishops from all over the world who had gathered in Rome for the Second Vatican Council witnessed the canonisation of these African martyrs. 
23 of the martyrs were Anglicans or belonged to the Church of England. The Catholic martyrs are often celebrated together with the Anglican martyrs. In fact, at Namugongo, the Catholic and the Anglican shrines are next to each other.
According to documents at Namugongo, over one million pilgrims from Uganda and beyond attended last year's Martyrs' Day celebrations.
(e-mail: engafrica@vatiradio.va)