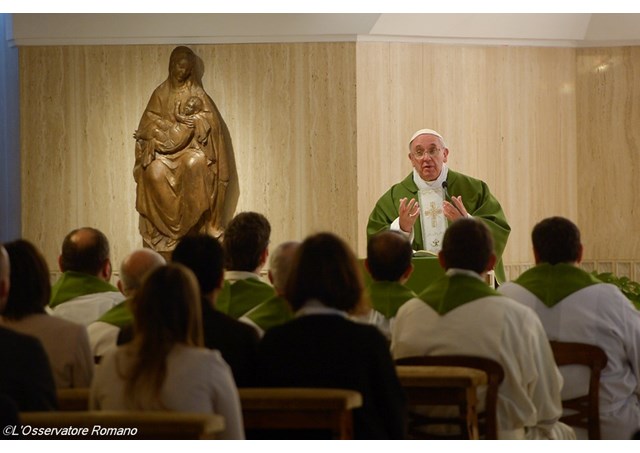 (Vatican Radio) Pope Francis says an authentic faith is open to others and forgives and urges God to help Christians and the Church not to succumb to a selfish, sterile and profiteering type of religion. His words came during his morning Mass celebrated on Friday (May 29th) at the Santa Marta residence.
Jesus condemns spiritual egoism
Taking his inspiration from the day's readings, the Pope's homily reflected on three proposed ways of living out our lives, using the images of the fig tree that produces no fruit, the dealers in the temple and the man of faith. He said the fig tree symbolizes a sterile life that is unable to give anything or be good to others.
"It (the fig tree) lives for itself, calm, selfish, it doesn't want any problems. And Jesus curses the fig tree because it's sterile, because it has not given of itself to produce fruit. It symbolizes a person who does nothing to help (others), who always lives for him or herself, as long as nothing is lacking. In the end these people become neurotic, all of them. Jesus condemns a sterile spirituality, a spiritual egoism. 'I live for myself and may I lack nothing and the others can fend for themselves.'"
Don't make religion a business
Pope Francis said the second way of living was that practiced by the profiteers, the dealers in the temple who were busy changing money and selling animals for sacrifice. He said they are the people who make religion a business because they used God's sacred site to trade and do deals. There was also the story of a priest who urged the faithful to make offerings and collected a lot of money, even from poor people. The Pope stressed that Jesus did not mince his words when he drove the dealers out from the temple, saying "'My house shall be a house of prayer but you have turned it into a bandits' den.'
"The people who went on a pilgrimage there to implore the blessing of our Lord, to make a sacrifice: Those people there were exploited! The priests were not teaching them to pray or giving them a catechesis… it was a den of thieves. Pay and come in … they were performing the rites in an empty way without piety. I don't know… maybe we'd do well to reflect on whether we encounter similar things going on in some places.  It's using God's things for our own profit." 
Faith helps others to do miracles
The third way of living, the Pope continued, was a life of faith as shown by Jesus. Having faith and praying to God helps bring about miracles.
"This is the lifestyle for a person with faith. 'Father, what must I do for this?' 'Ask the Lord who will help you to do good things and with faith. But there's one condition: when you begin praying to ask for this thing, if you bear a grudge towards somebody, pardon that person. This is the sole condition because your Father who is in heaven also pardons us for our sins.' This is the third way of living. It's faith, a faith to help others and to draw closer to God. This faith creates miracles."
Pope Francis concluded his homily with a prayer to God that "He may teach us this life of faith and that he may help all of us and the Church never to succumb to sterility and profiteering."  
Listen to this report by Susy Hodges: