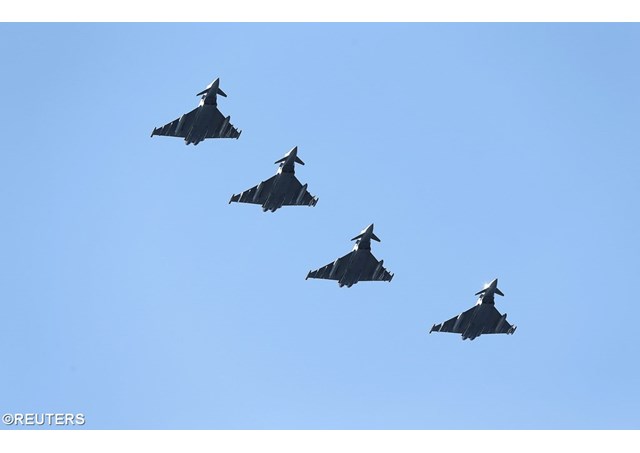 (Vatican Radio) Russia has begun a massive military exercise involving hundreds of aircraft and thousands of troops, while the NATO military alliance launched a drill on its own. 
Russia's Defence Ministry called its four-day drill a "massive surprise inspection", to check combat readiness. Defense officials say as many as 250 aircraft and 12,000 service personnel are participating in the exercise.
Listen to the report by correspondent Stefan Bos: 
And, Russian media reported that the inspection of the aviation group and air defence forces in the central military district involves almost 700 weapons and pieces of military hardware. 
During the exercise, Russia's long-range aircraft are due to carry out cruise missile strikes on practice targets in the Komi republic.
NATO TRAINING
The tests come on the same day as the NATO military alliance and its partners started an Arctic training exercise. Yet the surprise announcement by Russia was expected to further raise tensions with the West amid ongoing tensions over Russia's perceived role in the conflict in Ukraine. 
NATO Secretary-General Jens Stoltenberg said last week that while the alliance announces its drills in time, Russia does not.   
He urged Russia to in his words be more transparent amid concerns over unexpected drills and repeated violations by Russian aircraft of European countries' airspace.    
"I am very concerned about the large number of snap exercises conducted by Russia because this decreases transparency and practicability," he said.
"And therefore these snaps exercises both the numbers but also the seize of the snap exercises reduces predictability and transparency along our borders. And I think we should try to change that by also the Russians being more transparent when it comes to their military activities," Stoltenberg added.    
MOSCOW DISAGREES
Moscow has defended the drills saying it is in preparation for a larger exercise known as Center-2015  held later this year. 
Deputy Prime Minister Dmitry Rogozin joked that tanks don't need visa's/ He is himself on European Union and United States blacklists as part of sanctions after Russia's annexation of Crimea last year, limiting his travel options. Yet despite the tensions, cooperation continues on other fronts. 
Britain's re-elected Prime Minister David Cameron and Russian President Vladimir Putin have agreed that senior British and Russian officials are to resume efforts to find a solution to the crisis in Syria where many have died in an ongoing war. 
The British government said the resumption of talks between security advisers was discussed by the leaders in a telephone conversation on Monday.