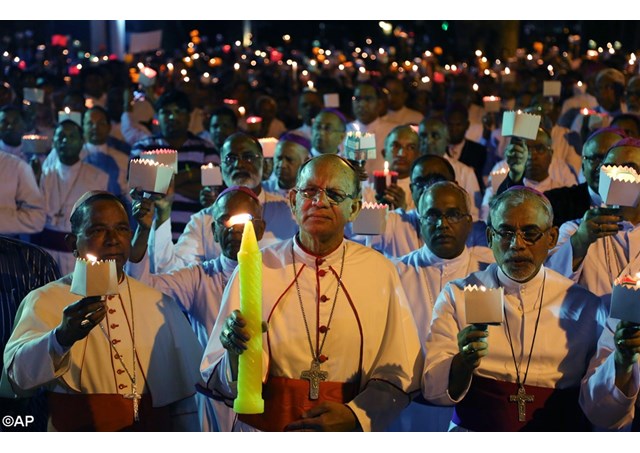 (Vatican Radio) In the backdrop of large scale celebrations and political rallies on completing one year in power at the Centre by the right-wing Hindu nationalist party, BJP (Bharatiya Janata Party) led government, prominent Christian leaders say they see an attitude change among political leadership which now appears to show genuine concern over attacks on the minority community in the past several months.
"The indifference and total silence" regarding the attacks on churches and the Christian community "has now given way to a genuine concern," said Archbishop Kuriakose Bharanikulangara of Faridabad, who along with 13 other top Christian leaders met Finance Minister Arun Jaitley on Saturday.
Since May 26 last year, when Prime Minister Narendra Modi came to power after his pro-Hindu Party (BJP) won a landslide victory in national elections, Christian leaders have complained of attacks on churches and individuals along with forced reconversion perpetrated by hardline Hindu groups.
For months, the Modi government was silent, but in February at an event organized by the Christian community in New Delhi, he had stated that his government "will not allow any religious group, belonging to majority or minority to incite hatred against others" and that his government will "ensure that there is complete freedom of faith."
"This principle of equal respect and treatment for all faiths has been a part of India's ethos for thousands of years," Modi had said, adding: "Everyone has the undeniable right to retain or adopt the religion of his or her choice without coercion or undue influence."
In recent weeks, party officials have met with Christian leaders and vowed to take concrete action.
Jailtley, who is also the Minister of Information and Broadcasting and a close confidante of Modi, "was very concerned about the attacks" and suggested certain steps to improve relations with the Christian community, the archbishop said.
One suggestion was to have one or two point persons from the community to interact with government "so that there is direct communication in times of need," said Father Savarimiuthu Sankar, the spokesperson of the Delhi archdiocese, who was part of the 14-member delegation that met Jaitley.
The priest said it was a "very positive development" given the long silence in the wake of the attacks. "[There was] no breakthrough … but we cannot continue to have an hostile approach to the government. We need to break the ice," said Father Sankar, adding that the government side initiated the meeting.
The senior minister, an alumnus of a Catholic college, promised to help Christians and asked them to contact him when they face difficulty, especially in BJP-ruled states. The minister said he would personally contact BJP chief ministers to help Christians, the priest said.
"He made it very clear that as a party BJP is does not approve of attacking faith communities, hate speeches and forced conversion," Father Sanker said. However he mentioned the "helplessness" of the government in having a control over speeches and actions of all party members.
Sources in Jatiley's office said the motivation for the meeting was to reach out to the minority community as part of a government endeavor to work for the development of all people.
(Source: UCANews)