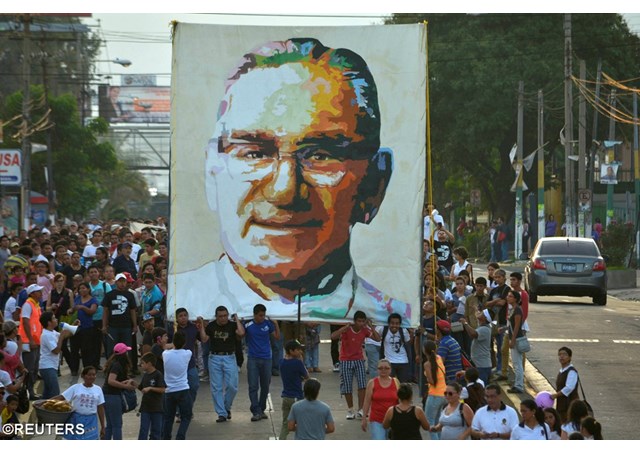 (Vatican Radio) Something is happening in El Salvador on the 23rd of May. Not just the usual rampant violence in this nation which has one of the world's highest murder rates. But a celebration for this majority Christian nation: the beatification ceremony of one of its sons, Archbishop Oscar Romero.
The ceremony was arranged following a decree approved by Pope Francis on the 3rd of February in which he declared the Salvadoran Archbishop  a martyr.
Like many of his fellow countrymen Romero was a victim of violence and was shot at while celebrating mass on the 24th of March 1980. So during the civil war that lasted from 1979 until 1992 and left over 70, 000 people dead.  
El Salvador which in Spanish means 'the Saviour' may be a tiny country on the mainland of the Americas but Oscar Romero's saintly reputation as the martyr who loved the poor has spread well beyond its borders. And he's viewed by many as a giant figure for whom the Gospel message always came first.
But if you wish to find out more about the figure of this new Blessed stay tuned and find out more in a programme written and produced by Jill Bevilacqua and produced by Sean-Patrick Lovett. A programme which is part of the series 'Witness'.
Listen: